Prospects Beck and Latta officially signed by Admirals…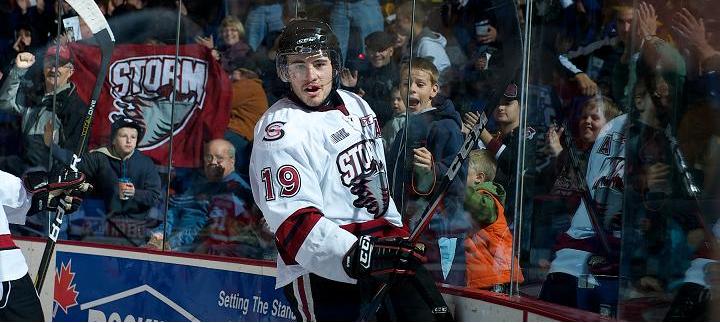 Taylor Beck and Michael Latta were drafted together, played on the Guelph Storm together and, tonight, signed professional amateur tryout contracts (ATO) together.
The Nashville Predators prospects saw their OHL seasons come to an end on Sunday night when Guelph was ousted from their best-of-seven series 4-2.
Beck, Nashville's third round pick (70th overall) in 2009, led the Storm in points with 98 points. Latta (selected two picks later) followed right behind with 89. Both players were among the top 10 in OHL scoring.
As far as their OHL careers go, Beck finishes fourth on Guelph's all-time scoring list with 267 points over his four seasons with the Storm. Furthermore, he's also 6th in goal scoring with 110. Latta, who started his career with the Ottawa 67's, still managed to take #15 on the franchise's all-time list. Pretty impressive considering he played one and half seasons elsewhere. 
The official press release from the Milwaukee Admirals is below.
—
Milwaukee, WI— The Milwaukee Admirals announced today the signing of winger Taylor Beck and center Mike Latta to amateur tryout contracts (ATO). In addition, the Admirals have released forward Chris Cahill from his ATO.
Beck, a third round draft pick by the Nashville Predators (70th overall) in the 2009 NHL Entry Draft, has played the last four seasons in the Ontario Hockey League (OHL) with the Guelph Storm recording 267 points (110g, 157a) in 246 regular season games. He finish his last year career posting 95 points (42g,53a) and accumulating 60 penalty minutes.
Like Beck, Latta was also a third round draft pick by the Predators (72nd overall) in the 2009 NHL Entry Draft and played with Beck on the Guelph Storm for the past three seasons. Prior coming to the Storm, he spent two years with the Ottawa 67's playing 73 games from 2007 to 2009. This past season, Latta recorded 89 points (34g, 55a) and spent the most time in the penalty box with 158 penalty minutes in 68 games. The St. Clements, ON native also saw ice time as an Admiral last year in one playoff game.
Fans can purchase tickets by calling Ticketmaster at (800) 745-3000 or logging on to milwaukeeadmirals.com. Group discounts are available starting with just ten people and get a minimum of $2 off the face value. For more information or to purchase group tickets fans can call the Admirals office at (414) 227-0550 or visit milwaukeeadmirals.com. Don't forget to follow the Admirals on Twitter (@mkeadmirals) and on Facebook!
—
PHOTO CREDIT: Surette Photography // courtesy of the Guelph Storm (used with permission)