REPORT: Poile would have "no objections" if Kostitsyn accepts KHL offer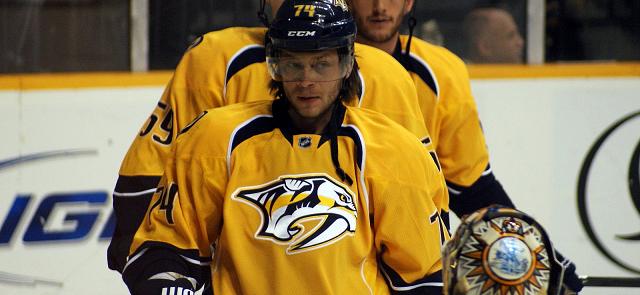 A Nashville Predators forward is being courted by the KHL again.
Difference being, this time, it seems they're cool with it.
Per R-Sports (a Russian sports website), Predators winger Sergei Kostitsyn has been offered a contract by Avangard Omsk. According to Igor Eronko, Avangard's general manager told another Russian newspaper that there would be "no objections" from Nashville GM David Poile if he wanted to go play there.
The Novopolotsk, Belarus, native has one year left on his NHL deal at $3 million.
Obviously this is a Russian report so it needs to be taken with a grain of salt but, that being said, can you blame either party? Kostitsyn was a point-per-game player when he skated with Avangard during the lockout (25 points in 24 games) but, once he returned, he managed an underwhelming — and often frustrating — 15 points in 46 games. This from a guy who led the Preds in scoring with 50 points in 2010-11 and then was one of the best forwards the following season with 43 points.
There were rumors that Kostitsyn, 26, wanted to stay overseas when the lockout ended and his performance on NHL ice last season illustrated that. Perhaps it's best for both to part ways.
—
PHOTO CREDIT: Sarah Fuqua (used with permission)