Rinne makes 39 saves in win over Wings; Preds in 8th…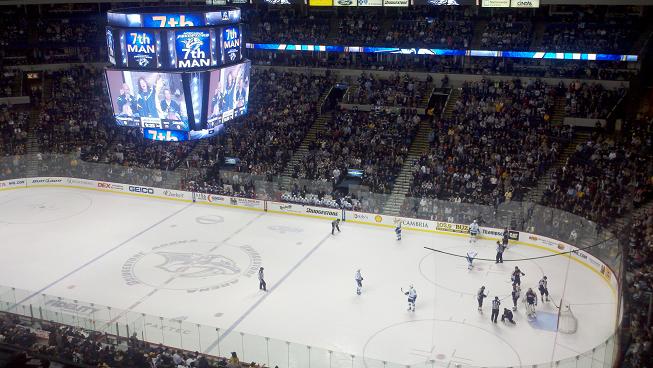 As he has been on most nights, goaltender Pekka Rinne was the difference maker for the Nashville Predators on Saturday.
Making 39 saves (including 20 in the third period), Rinne backstopped the Preds to a 3-1 victory over the arch-rival Detroit Red Wings in front of a sold out Bridgestone Arena.
Blake Geoffrion, Jon Blum and David Legwand got the goals for the Preds as they improved to 37-25-10 and moved into 8th place in the Western Conference.
In an almost penalty-free first frame, Preds captain Shea Weber and Sergei Kostitsyn went to hit Valtteri Filppula along the boards and Kostitsyn was whistled for elbowing. After several other certain penalties that went un-called (on both sides), Kostitsyn's supposed elbowing penalty was a weak one but, regardless of opinion, gave the Red Wings their second consecutive power play. Just 0:08 after the puck dropped, both Kevin Klein and Nick Spaling failed to tie up Daniel Cleary in front of the net. As a result, he scored the first goal of the game, giving the visitors a 1-0 lead headed into the locker room.
Halfway through the game, Brentwood, Tennessee native Blake Geoffrion then took his rightful place in the record books. After deflecting a dish from Patric Hornqvist past Detroit netminder Jimmy Howard to tie the game, Geoffrion became the first NYHL (Nashville Youth Hockey League) alum to score a goal in his home state. His previous two career goals came in Vancouver, British Columbia and Edmonton, Alberta.
Tennessee wasn't the only non-traditional hockey state to get on the scoresheet tonight, however. Long Beach, California native Jon Blum netted his third goal of the season on the power play to put the Preds up 2-1 midway through the third period.
Legwand added the empty netter in the final minute of play to put this one on ice.
Nashville has zero time to appreciate this win as they hop on a plane tonight and head for Buffalo, New York. In a ridiculous scheduling gaffe, the Predators, who played at home tonight, will play again tomorrow, in upstate New York, in an afternoon game.
With a win over Buffalo and a Chicago loss, the Predators would move into sole possession of fifth place.
Puck drops at 4:00pm Central and all the action can be seen on Fox Sports Tennessee. Expect Anders Lindback to get his final start of the regular season tomorrow (unless, of course, Nashville has secured a playoff spot heading into their April 9 contest at St. Louis). 
LEFTOVER THOUGHTS:
* It was the 13th sellout of the season for Bridgestone Arena.
* Two players that didn't show up on the scoresheet that deserved a lot of credit tonight were Shane O'Brien and Jordin Tootoo. Each played a tremendous game and made big plays at key times.
* Patrick Eaves had a rough night. First, he was cleared into the end boards by Weber in the first. In the second, he blocked a Weber slapshot that prompted his teammates to slide him toward the bench because he couldn't get up on his own. Then, in the third, Cody Franson took a couple swings at the back of his head during the play.
* All three of Blum's career goals have come on home ice.
* Three of Legwand's last five goals have come with an empty net.
* Mike Fisher hasn't scored a goal in 14 games. 
* After only registering one point in his previous 10 games, Kostitsyn now has three in his last two.
* Hornqvist, who had two helpers on the night, recorded his first multi-point game since February 12. The Preds leading goal scorer (18) still hasn't scored since March 3, however.
* Rinne's main Vezina Trophy competition Tim Thomas of the Boston Bruins gave up four goals on just 14 shots before being pulled tonight.
* The Red Wings had a four game win streak coming into the night.
* The Predators have won four of their last five.
MY THREE STARS (as voted on with 8:31 remaining in regulation):
1) Pekka Rinne (NSH)
2) Patric Hornqvist (NSH)
3) Blake Geoffrion (NSH)
THE THREE STARS OF THE GAME:
1) Jon Blum (NSH)
2) Blake Geoffrion (NSH)
3) Pekka Rinne (NSH)
—
PHOTO CREDIT: Jeremy K. Gover // section303.com