Rinne spectacular, Preds not in Game 1 loss…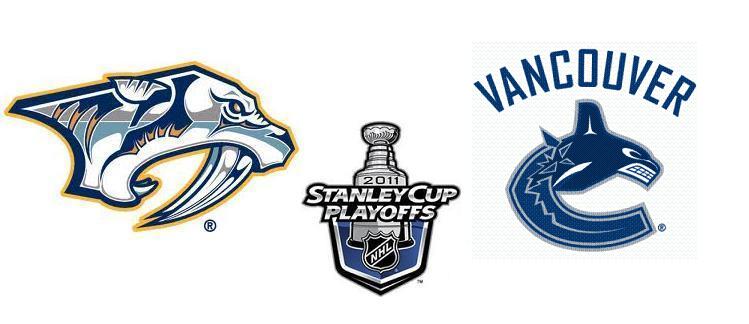 Just as he needs to if his team is going to win this series, goaltender Pekka Rinne gave the Nashville Predators every chance to win.
But they didn't.
The Preds opened their second round match-up with the top-seeded Vancouver Canucks by only allowing a single goal but also not scoring any. In front of a sold out Rogers Arena crowd, the Canucks disposed of the Preds, 1-0 and, therefore, took the series lead by the same margin.
Rinne stopped 29 Vancouver shots including all 16 he faced in the first period alone. He single handedly kept his team in this game. It very well could've gotten out of hand early but Rinne stood on his head despite the loss. He deserved a better fate on this night.
"Pekka Rinne I thought was fantastic," Head Coach Barry Trotz said. "For two periods, Pekka Rinne was the difference."
The Predators generated little to no chances in front of their goaltender until the third period. It almost seemed as if they were just happy to be there instead of eager to make a statement. And, against the Canucks, that's extremely dangerous.
"For two periods our compete level was not where it should be," Trotz said. "We didn't skate and we didn't support the puck and we didn't play smart. Tonight we had way too many passengers.
"Our group of forwards were not good at all."
After Christopher Higgins scored in the middle frame for the Canucks, the Predators seemed to wake up. In the third period, they outshot their opponents 9-4 and finally generated some scoring chances. Everything from a shorthanded breakaway by Mike Fisher to a missed empty net by Shea Weber but it was all too little too late as Vancouver dominated early.
"Let's be honest, we didn't deserve to win this hockey game," Trotz said.
Nashville will try to rebound in Game 2 which is Saturday night. The 303 Viewing Party for that second game will be at Brewhouse South in Franklin. So make plans to watch the game with us.
Puck drops at 8:00pm Central.
LEFTOVER THOUGHTS:
* Vancouver won 61% of the face-off's tonight, including 22 of 25 in the first period. Trotz called it "embarassing."
* Higgins, who had the only goal in the game, was left off the Three Stars.
* Weber led all Preds in shots with just three.
* Ryan Suter led all skaters with 29:00 of ice time.
* Roberto Luongo had a shutout in Game 1 of the first round as well. He then fell apart, allowing 15 goals in the next four games.
THE THREE STARS OF THE GAME:
1) Pekka Rinne (NSH)
2) Mason Raymond (VAN)
3) Roberto Luongo (VAN)