Rinne collects 100th win, breaks franchise record in shutouts…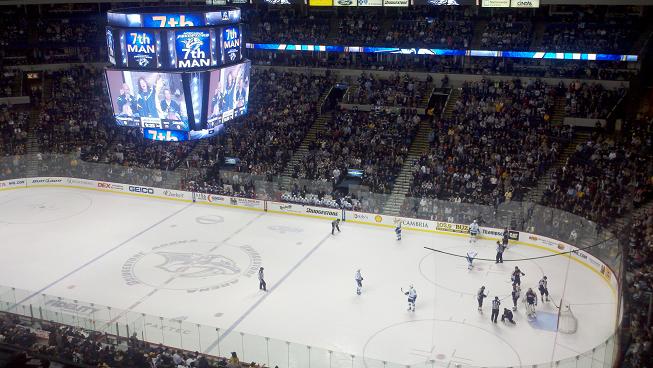 Pekka Rinne was the reason the Nashville Predators went to the playoffs last year. He single-handedly kept them in games they had no business being in. He made save after save after save in order to buy time for just one more goal. His never-say-die mentality on every shot is synonymous with how the team plays in front of him on every shift.
The Preds got 20 saves from Rinne and goals from Patric Hornqvist, Martin Erat and Shea Weber en route to their 3-0 victory over the Anaheim Ducks on Saturday night. But the story wasn't Nashville's fifth win of the season. It was Rinne posting his 22nd career shutout, moving past Tomas Vokoun for tops on the all-time franchise list.
What took Vokoun eight seasons to compile, Rinne accomplished in three and some change. The former Predator had to deal with the rough expansion years but, if you look at the numbers, both netminders had roughly the same offense in front of them. Vokoun's teams averaged 212 goals per year. Rinne's teams have averaged just 219.
He also collected the 21 shutouts in less than half as many games. Rinne played his 187th career NHL contest tonight. Vokoun donned a Preds sweater 383 times.
Additionally, the Kempele, Finland native won his 100th career game and is now 61 wins away from Vokoun in that same category. Rinne will need to re-sign with Nashville for at least one more season to have a shot at breaking that franchise record.
Before the 16,395 inside Bridgestone Arena knew Rinne would go onto have a milestone night, however, they watched their team do something they haven't done in a while: get off to a fast start. Just 0:14 into the contest, Hornqvist kept banging away at his own rebound until finally Jonas Hiller's left pad moved off the post enough for the puck to squeak through.
The Predators would finish book-ending the opening frame as Jordin Tootoo tossed a cross-ice pass to a breaking Erat who got the puck over a sprawling Hiller's pad to make it 2-0 headed into the intermission.
After a scoreless middle stanza, Nashville really needed to get the first goal of the third in order to take command of the game. Anaheim has too many potent offensive weapons in Bobby Ryan, Ryan Getzlaf and last year's Rocket Richard Trophy winner Corey Perry to let them hang around too long. Fortunately for the Preds, that's exactly what they did. Using a Brandon McMillan double minor for high sticking, Weber found the back of the net to make it 3-0.
Nashville now heads out on the road. They'll play Chicago on Monday before going out west for four Pacific Division games. Puck drops on Halloween night at 7:30pm Central.
LEFTOVER THOUGHTS:
* Hornqvist, who hadn't found the back of the net in 15 games (including the post season), has now scored in two straight.
* Hornqvist also led all skaters with seven shots on goal.
* Mike Fisher left the game in the first period after taking a booming open-ice hit from Francois Beauchemin.
* Blake Geoffrion and Matt Beleskey dropped the gloves in the third period. Geoffrion got three really good right hooks in before the two combatants fell to the ice.
* Perry speared Rinne in the playoffs last year and didn't get penalized. He speared Tootoo behind the play tonight and got rung up for 2:00. The official scoresheet called it "slashing," however. Either way, it's a disturbing trend that he uses his stick as a weapon on a regular basis.
* Ryan Suter was credited with an assist on the second Preds goal but isn't listed as one of the Predators on the ice for the goal.
THE THREE STARS OF THE NIGHT:
1) Pekka Rinne (NSH)
2) Shea Weber (NSH)
3) Patric Hornqvist (NSH)
—
PHOTO CREDIT: Jeremy K. Gover // section303.com