Rinne's road back to Nashville could go through Milwaukee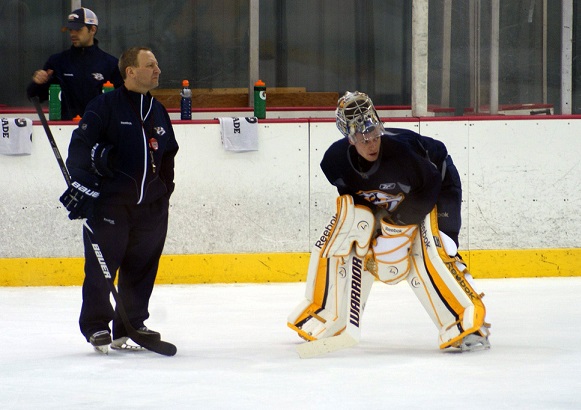 He led the Milwaukee Admirals to the 2006 Calder Cup Finals and he hasn't played there since April of 2008. His road back to Music City, however, may go through his old stomping grounds.
Pekka Rinne, who has been on the shelf since October 24, has been cleared to ramp up his physical activity with the hopes that he'll be medically cleared to play soon. If the Nashville Predators can get him back before seasons end, it would provide a huge boost to a team on the fringe of the Western Conference playoff picture.
But asking the two-time Vezina Trophy finalist to jump between the pipes and play lights out hockey after not having played for almost five months is asking too much. That said, the Preds need his services soon. As a result, the best thing for both parties would be a conditioning assignment in Milwaukee.
"It's very difficult to jump the Grand Canyon," goaltending coach Mitch Korn said. "If you had a spot in the middle where you could land and make it two jumps, that would be better. It's the same thing."
Per the collective bargaining agreement, a veteran NHL player must accept a conditioning assignment to the AHL. Both Craig Smith and Matt Halischuk did that last season and regained some confidence as a result. Considering Rinne, 31, is just excited to get back on the ice, he won't give the organization any resistance on that front.
"If that's what's decided, yeah, I have nothing against it," Rinne said. "Going forward, that's a pretty big possibility."
"Let's just make sure that he gets cleared to take it to the next level and then we'll have a more definite plan," Head Coach Barry Trotz said about sending his franchise goalie to Milwaukee. "Will that probably be the case? Yeah. We're hoping we can do that. There's not a real definite time frame but, in an ideal world, yeah."
How happy is Rinne just to be back at practice? On Sunday, a puck caught him up high and knocked his mask off. A smile never left his face.
"I'm just so excited to get back out there," Rinne said. "The guys have been amazing. They've been excited to have me back and I've been super excited to be back."
The Admirals have home games Friday and Sunday and, if he's cleared to play this week, he could don the skeleton head for the first time in six seasons as early as this weekend.
Playing at the AHL level would provide Rinne an opportunity to see where his body, stamina and reaction time are at while not feeling the pressure (necessarily) to win. For a goaltender, those are absolutely essential for success.
"There are a lot of things you can do in practice but there are also a lot of things that, no matter how hard you practice, you can't do," Korn said. "That involves 60 minutes of focus, elevating, then bringing yourself down for the time you have between periods and elevating again. Being able to control all that doesn't happen in practice. The amount of traffic that occurs in and around the net doesn't happen in practice. That's the advantage of playing a game versus just practicing."
"In a game, you've got to concentrate for 60 minutes," Trotz agreed. "In practice, he can concentrate for five real strong minutes and then take a breather. Playing the game for 60 minutes might be real tough mentally."
An assignment to Milwaukee will give Rinne a chance to see if he's truly ready to resume playing. In the meantime, Nashville's keys still belong to Carter Hutton and back-up Devan Dubnyk. Together with rookie Marek Mazanec (who was sent to the Admirals when Dubnyk was acquired), the goalies have held their own and kept the Preds within four points of the qualifying pack.
"It's been a difficult year," Rinne said. "You never want to miss that much hockey. It's tough to sit there and watch games but they've done a great job. We're still right there for a playoff stretch and we have a great chance."
Nashville has 60 points with 23 games remaining. They are fighting with the Winnipeg Jets, Vancouver Canucks, Phoenix Coyotes and the Dallas Stars for the final playoff spot in the West. Between now and season's end, they'll play both the Jets and Canucks once more and the Coyotes and Stars twice each. They need to win as many of those games as possible to simultaneously help their own cause while hurting their direct competition. That leaves 18 more games in which they'll need to collect points by any means necessary in order to make it into the dance.
"My goal is to be back here and help the team in the last part of the season but, at the same time, I want to be 100 percent," Rinne said. "I don't want to be a liability."
One thing is for certain, if and when Rinne takes the ice at BMO Harris Bradley Center, Admirals fans will be beyond happy to welcome back a former fan favorite. Another thing for certain? They still won't be as happy as Rinne will be.
—
PHOTO CREDIT: Sarah Fuqua (used with permission)