Roman Josi signs 7-year contract extension with Predators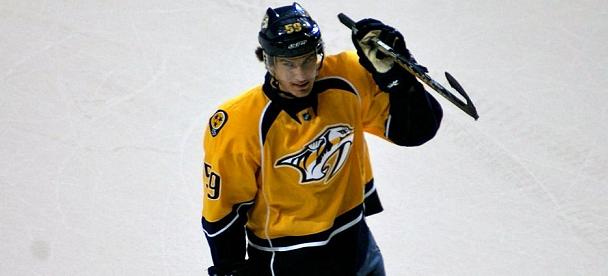 According to their media relations department, the Nashville Predators have re-upped defenseman Roman Josi.
Josi, 23, skated alongside two-time Norris Trophy runner-up Shea Weber last season and has been tabbed as the heir apparent to Ryan Suter.
The deal is a seven year extension worth $28 million.
The Bern, Switzerland, native was second on Nashville in ice time last season (23:31), sixth in scoring (18 points) and was one of just three on an injury-riddled Predators squad to play in all 48 games.
Josi led his Swiss team to a silver medal at the 2013 IIHF World Championships last month and earned tournament MVP honors in the process, becoming the first Swiss player to take home an individual award in the 83-year history of the event.
Long term, the deal looks like a bargain. While $4 million a year might seem a tad steep for a second year NHL player, just think about what defensemen in their prime will be making in 2017 or 2018. Yet General Manager David Poile has managed to lock up a key piece to their defense corps for seven more years at a bargain price. Not to mention, it leaves meat on the bone when free agency opens up in July.
The Predators could still use a second pairing blueliner in order to replace Josi who replaced Suter. Scott Hannan didn't work out as planned and a lot of the team's trouble's last season came from instability at the back end. Could that void be filled by Josi's countryman and soon-to-be-former New York Islanders captain Mark Steit? He's a bit older at 35 but four of his last five full seasons have been 45+ point years.
A blueline sporting veterans like Weber, Kevin Klein, Hal Gill and Josi as well as prospects Ryan Ellis and Victor Bartley, a position that was a question mark just a couple months ago, seems to be in great shape for years to come.
Josi is not the only player to re-up with the Preds this off-season. The team's two-time leading goal scorer Patric Hornqvist signed an extension of five years worth $21.25 million on April 30.
The official press release is below.
***
Nashville, Tenn. (June 10, 2013) – Nashville Predators President of Hockey Operations/General Manager David Poile announced today that the club has signed defenseman Roman Josi to a seven-year, $28 million contract. He will make $2.5 million in 2013-14, $3 million in 2014-15, $4 million in 2015-16, $4.25 million in 2016-17, $5 million in 2017-18, $5.25 million in 2018-19 and $4 million in 2019-20.
"Re-signing Roman was a top priority as we look to regroup heading into the 2013-14 season," Poile said. "Roman has proven, with his growth and success here in Nashville and on the international stage, that he is one of the best young defensemen in the NHL. Roman's skating ability and instincts have allowed him to play in all key situations. With today's signing, we have our top defensive pairing locked up long-term, and we look forward to Roman's continued development and contribution to the Predators' on-ice success."
Josi, 23 (6/1/90), posted 18 points (5g-13a) while appearing in all 48 of Nashville's games in 2012-13, surpassing his 52-game total from his rookie campaign in 2011-12. The Bern, Switzerland native saw his average ice time increase by more than five minutes from his rookie campaign (from 18:23 to 23:31), leading the team in ice time on nine occasions while ranking 19th in the League in total minutes played (1,129:25) last season.
The 6-2, 198-pound blueliner had a standout 2013 World Championships, becoming the first Swiss player to be named Most Valuable Player, Best Defenseman and a tournament All-Star after helping Switzerland to a silver medal, the nation's first medal in 60 years. Josi led all tournament defensemen in goals (4) and points (9), in addition to leading Switzerland in points and average ice time (20:08).
Nashville's third choice, 38th overall (second round), in the 2008 Entry Draft, Josi has posted 34 points (10g-24a) in 100 regular-season games.
—
PHOTO CREDIT: Sarah Fuqua (used with permission)