Saturday's loss to Wild suggests Nashville's offense on Friday was just an anomaly…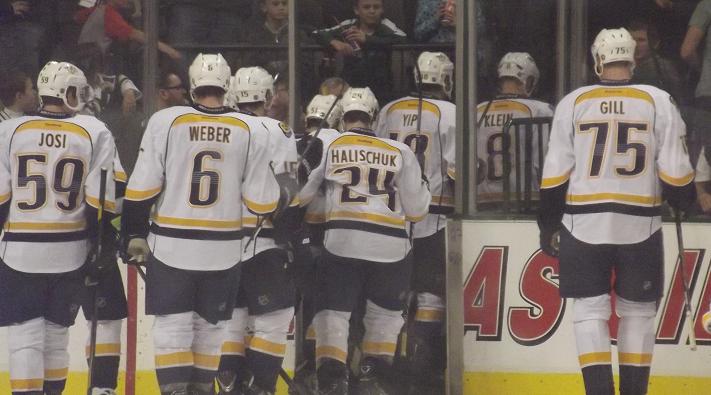 The Nashville Predators have had all kinds of problems finding the back of the net this season. In an effort to find some scoring without making drastic changes to the NHL roster, General Manager David Poile spent most of this past week making some moves. On Monday, he claimed Bobby Butler off waivers from the New Jersey Devils. On Tuesday, he went back to the waiver wire and plucked former first round pick Zach Boychuk from the Pittsburgh Penguins. Then, less than 24 hours later, he recalled defenseman Victor Bartley from the Milwaukee Admirals. And if that wasn't enough, on Thursday, he sent Matt Halischuk — a 15-goal scorer a year ago — to Milwaukee on a conditioning assignment.
His team promptly responded with a 6-0 drubbing of the Edmonton Oilers on Friday night. As a result, the big question became "is this really the new Predators or is this just a one-game anomaly?"
Saturday night suggested that, unfortunately, it was just an anomaly.
The Predators welcomed in their old friend Ryan Suter and the Minnesota Wild and took them to overtime, only to lose in the shootout, 2-1.
"It was kind of a neutral zone game," David Legwand said. "There wasn't much zone time on either side but those are the games that you have to come through."
And come through they didn't. Sure, they got a point, giving them three out of four during the brief two-night homestand, but this team needs wins. More important than that, they need to consistently play a full 60 minutes, just as they did against the Oilers on Friday.
While there were plenty of positives against Edmonton, the most encouraging thing was that the Predators never let up. They led 4-0 after two and even 5-0 early in the third but kept their foot on the gas, dominating the Oilers at every turn and generating offense until the final horn.
"We learned that, if we play a certain way, we can have success," Head Coach Barry Trotz said after Friday's tilt. "We won a game. It's great, but can we follow it up?"
Legwand's game-tying goal early in the third period on Saturday was the only offense Nashville could muster against the Wild, suggesting that the offense and full 60-minute effort the night before was just a fluke.
But that didn't stop the Predators from finding positives.
"We played a real good Minnesota team that got a chance to scout us last night," Trotz said. "We had great commitment on the penalty kill at the end, guys were blocking shots and we got great goaltending from Pekka (Rinne). We're disappointed we didn't win the game but, at the same time, it was a good point."
"I think it was good to get three out of four (this weekend)," center Paul Gaustad said. "We wanted four out of four and it's unfortunate with the injuries but, again, that's something in the season we expected."
The injuries Gaustad speaks of are those to Patric Hornqvist on Friday and Colin Wilson on Saturday. Hornqvist is out at least two games with an upper-body injury after Edmonton's Theo Peckham boarded him dangerously in the second period of Friday's game. Wilson received almost the same treatment on Saturday after Justin Falk took him hard into the boards behind the Wild net, also in the middle frame. Wilson required help from the trainer and teammate Roman Josi to even get to his feet.
Trotz said both players would be re-evaluated on Monday.
If the Predators are forced to be without last season's leading goal scorer and their current leading scorer, the upcoming five-game road trip could get ugly for the league's worst offense (2.08 goals-per-game).
"We have guys that will step up," David Legwand said. "We have had that all year long and throughout the 15 years here. I think everyone stepped up when guys have gone out."
Which is an interesting take on the situation since the main complaint against the Predators this year is that nobody has stepped up and emerged as a go-to person for offense. When Hornqvist missed 10 games early in the season, Nashville managed to go 6-2-2 but still only mustered 20 goals in those 10 games. Furthermore, veteran leaders like Mike Fisher, Martin Erat and even Legwand himself are having abysmal seasons given their strong two-way play and offensive production last year. Questionable decision making, electing to pass vs. shoot and being soft on the backcheck are just three common occurrences we've seen out of that leadership group so far.
That being said, Legwand is right when he says players will need to step up. But who will it be? Can guys like Sergei Kostitsyn finally turn it around? Will waiver wire pick ups Butler and Boychuk embrace their roles and prove their old teams wrong? Will the Predators have to turn to prospects in the system to find a spark? After all, Poile can't really afford to swing a big trade in order to bring in goal scoring because the issue goes much deeper than just one player.
"We said from day one that we're going to be tested by our depth so now we're going to be tested even more," Trotz said about the injuries. "We're going to have to re-evaluate what's in Milwaukee as well. And re-evaluate and look at these guys (here). There was a little bit of fall off in play in some of our guys today. At the same time, we've just got to go on the road and do something as a group."
Yes, five games on the road. First against the Dallas Stars on Tuesday and then three games out in western Canada before heading back to the Central Time Zone and taking on the Columbus Blue Jackets on the 19th. It's pretty clear that Nashville has to have a strong showing on the trip because, if they don't, they might be flirting with last place in the Western Conference.
They showed they can score goals and give a relentless effort each and every shift against Edmonton, so the example is there. Here's to hoping that Friday was the start of something great for the Predators and that Saturday, in fact, was the anomaly.
Puck drops at 7:30pm Central on Tuesday night in Dallas.
***
MY THREE STARS ON SATURDAY (as voted on with 6:00 remaining in regulation):
1) Zach Parise (MIN)
2) Pekka Rinne (NSH)
3) Niklas Backstrom (MIN)
THE THREE STARS OF THE GAME:
1) Niklas Backstrom (MIN)
2) David Legwand (NSH)
3) Zach Parise (MIN)
—
PHOTO CREDIT: Melissa Grissom (used with permission)