Setting the (attendance) record straight…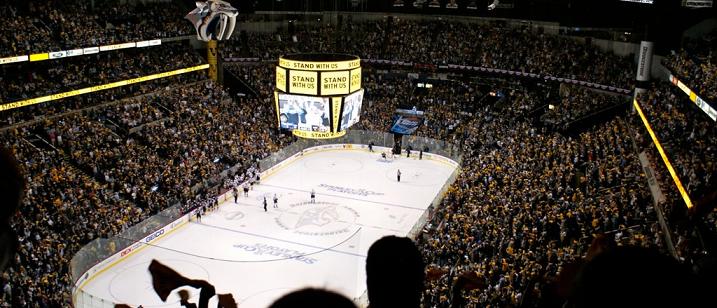 There have been conflicting reports about the Nashville Predators' home sellout streak so we want to set the record straight.
Below are the attendance numbers for each home game straight off of the NHL's official scoresheets. You'll notice that they have, in fact, sold out six games in a row. They will — say it with us — MAKE IT SEVEN! if they sellout tonight's game against the Western Conference rival Dallas Stars.
Do you have your tickets yet? According to ticketmaster.com, there are less than 900 remaining for the game. Do not miss your chance to be a part of franchise history: seven consecutive regular season sellouts.
—
HEADLINE PHOTO CREDIT: Sarah Fuqua // Flickr (used with permission)
—
| | | | |
| --- | --- | --- | --- |
| DATE | OPPONENT | ATTENDANCE | RESULT |
| | | | |
| 1/1 | Calgary | 17,113* | 5-3 W |
| | | | |
| 12/28 | Minnesota | 17,113* | 2-1 W (so) |
| 12/26 | Detroit | 17,113* | 4-1 L |
| 12/22 | Columbus | 17,113* | 6-5 W |
| 12/17 | St. Louis | 17,113* | 2-1 W (so) |
| 12/15 | Detroit | 17,113* | 4-3 W |
| 12/13 | Calgary | 14,813 | 2-1 W |
| 12/10 | Anaheim | 17,113* | 3-2 W |
| 12/6 | Phoenix | 15,683 | 3-2 L |
| 12/3 | Buffalo | 17,113* | 3-2 L |
| | | | |
| 11/22 | Edmonton | 16,838 | 6-2 L |
| 11/19 | Columbus | 16,776 | 4-3 OTL |
| 11/17 | Toronto | 16,135 | 4-1 W |
| 11/15 | Washington | 14,863 | 3-1 W |
| 11/12 | Montreal | 17,113* | 2-1 OTL |
| | | | |
| 10/29 | Anaheim | 16,395 | 3-0 W |
| 10/27 | Tampa Bay | 16,619 | 5-3 W |
| 10/25 | San Jose | 15,121 | 3-1 L |
| 10/15 | New Jersey | 17,113* | 3-2 OTL |
| 10/13 | Phoenix | 17,113* | 5-2 L |