Should Nashville sign Wade Redden in order to keep him from Detroit?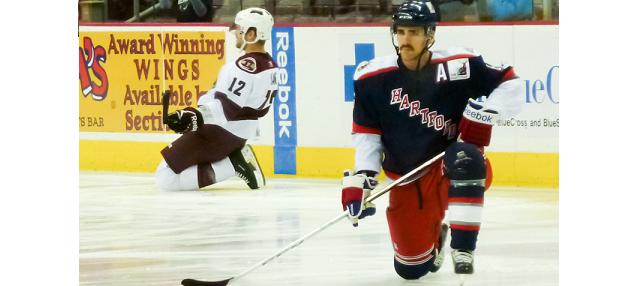 According to Helene St. James of the Detroit Free Press, the Red Wings are going to kick the tires on soon-to-be-free agent Wade Redden.
The New York Rangers have put the defenseman on waivers with the intention of buying him out before the season starts this weekend.
With the legendary Nicklas Lidstrom retiring after 20 seasons and with Brad Stuart moving onto the San Jose Sharks in the off-season, the Red Wings are hurting for defensemen. They were reportedly interested in signing free agents Ryan Suter, Shea Weber or Matt Carle to replace Lidstrom but whiffed on all three. As a result, they inked oft-injured Carlo Colaiacovo out of desperation. But now, all of a sudden, Redden is on the waiver wire.
Now obviously nobody will claim Redden and his monstrous $6.5 million cap hit. But, once he clears, he will be a free agent thanks to a recent compromise by the NHL and the Players Association. The Red Wings could certainly use his services, maybe even as a top pairing defenseman given their depth chart. Do the Nashville Predators play a little defense here by signing the much-maligned Redden?
Before you laugh, hear me out.
It's no secret that the Preds could use a veteran defenseman. With the unexpected departure of Suter, sophomore Roman Josi has been named his heir apparent. But what if he's not ready for prime time? After all, Suter was third among all NHL players in average ice time last season. What's if Josi's still a season away? In a truncated year, Nashville could be in trouble before they realize it, diagnose it and then work out a fair deal to fix it. Redden would be a great piece to add to the third pairing and, if Josi proves not ready, could fill in next to Weber. Also, he could provide a veteran option over youngsters Ryan Ellis and Jon Blum and he'd be motivated by simply being in the NHL again.
Redden, 35, is not a bad player. It's his exorbitant contract that's buried him in the minors the past two years. Asking him to return to his glory days of 45-50 points is probably a stretch but, on a good team and in the right situation, he could be a 30 point guy again. And, quite frankly, that's what Nashville would need him to be. They don't need a top flight defenseman to come in and light it up. They need a serviceable rearguard who's strong at both ends of the ice and can contribute occasionally.
And then there's the added bonus of keeping the Detroit cupboard bare. The most recognizable name on their blueline is Niklas Kronwall. Their depth chart is rounded out by Colaiacovo, Jonathan Ericsson, Kyle Quincey, Brendan Smith and Ian White. Not exactly panic-inducing. Detroit needs help and they need it badly. Redden doesn't exactly solve their woes but certainly soothes them. If the Predators could sign him at the right price, they would be helping their own cause and hurting their arch rival simultaneously.
You're free to laugh now but all we're saying is it might behoove Nashville to make a phone call.
—
UPDATE (January 17 at 4:50pm Central): Well, so much for that. We asked Head Coach Barry Trotz straight up this morning. "Are the Predators interested in either Redden or Scott Gomez?" His answer? "Not really. No."
—
PHOTO CREDIT: Bridget Samuels // Flickr (used with permission)