Starting tonight, we'll find out if the Preds are buyers or sellers…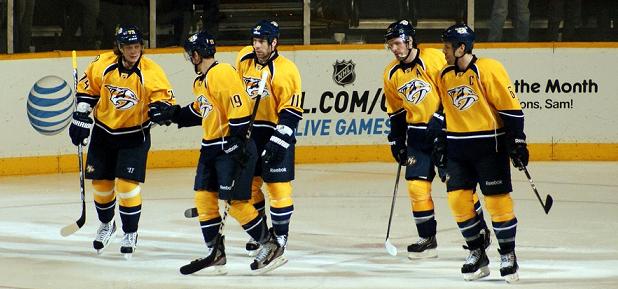 The Nashville Predators have the worst offense in the National Hockey League, are missing two of their biggest offensive weapons in Patric Hornqvist and Colin Wilson and will be on the road for the next five games.
Starting tonight, we'll see where this team is headed.
Nashville's touts basically the same roster as last year (sans Ryan Suter, Jordin Tootoo and Francis Bouillon) when they had the fourth best offense in the Western Conference and the league's best power play. Yet, for some reason, they haven't been able to put things together in 2013. With just 22 days until the trade deadline, the Predators sit in 11th place in the Western Conference with a 10-9-6 record and may become sellers for the first time since 2003.
"We have guys that will step up," David Legwand said.
Okay, but who? And why hasn't it happened yet?
This isn't exactly a new problem. When Hornqvist missed 10 games early in the season because of a leg injury, the Predators found the back of the net just 20 times. Furthermore, they've scored one goal or less in 11 of their 25 games.
"Where's the problem? Well, it always starts at the top," Nashville Predators General Manager David Poile told 102.5 The Game last week. "These are our most veteran forwards, these are our best forwards, these are the guys that we've counted on, these are the guys who get the most ice time, these are the guys that are playing on the power play. They've got to do it."
The guys Poile speaks of are Mike Fisher, Legwand and Martin Erat and they've been underwhelming — to put it nicely — this year. Fisher is a 50-point player (in a full 82-game season) yet only hit double digits in points during the lopsided 6-0 win over Edmonton last Friday, the halfway point of this truncated campaign. As far as Legwand goes, he had the second best season of his career in 2011-12, bagging 53 points while still playing a strong two-way game. But, through 25 games this year, he's found the scoresheet just nine times and has even been an defensive liability occasionally, something that's very uncharacteristic for him.
And then there's Erat.
Between December 2, 2011 and the end of last season, the two-time Czech Olympian potted 102 points in 119 games. Since the start of this season, however, Erat has just 13 points, including just three in his last nine. For a team that needs scoring, that's not exactly stepping up to the plate. Additionally, he's developed a habit of turning the puck over in the neutral zone and making poor decisions when on the attack.
"Take our four best offensive forwards, Legwand, Fisher, Erat, (Sergei) Kostitsyn and maybe Hornqvist" Poile said on The Game. "All of them are below where they should be. If they were scoring at the rate they've scored every year in the National Hockey League, we wouldn't be having these discussions. We wouldn't have picked up Zach Boychuk and Bobby Butler."
In an effort to shake the roster out of it's funk, Poile claimed Boychuk off of waivers from the Pittsburgh Penguins and Butler from the New Jersey Devils early last week. He also recalled defenseman Victor Bartley from the Milwaukee Admirals. All three players had strong efforts in their first two games as Predators and, with the injuries to Wilson and Hornqvist, all three should see ice time on the road trip.
The Predators are actually set up for success on this trip. They take on the Dallas Stars tonight and, according to reports, Jamie Benn, their most dynamic player, is "unlikely" to play tonight with a wrist injury. They'll then travel up to western Canada and take on the struggling Vancouver Canucks who are just 0-2-2 in their last four and just 1-5-2 in their last seven. The Calgary Flames follow the very next night. Calgary is dead last in the Western Conference with a 9-11-4 record and may trade veterans Jarome Iginla, Jay Bouwmeester and Miikka Kiprusoff for a chance at the Stanley Cup before this season is all said and done. Nashville's final game west of the Mountain Time Zone comes this Sunday against the same Edmonton Oilers team they trounced 6-0 last weekend.
Add the Columbus Blue Jackets to that five game set and that's five winnable contests for the Predators. If they continue to struggle in this set of games, General Manager David Poile will be forced to turn his club into a seller. And the only good thing that can come out of that is a high pick in this deep 2013 NHL Draft class.
When this road trip comes to an end, there will be only 15 days until the trade deadline. Here's to hoping the Predators are buyers when they return home on Thursday, March 21.
—
PHOTO CREDIT: Sarah Fuqua (used with permission)