Thank You Shea Weber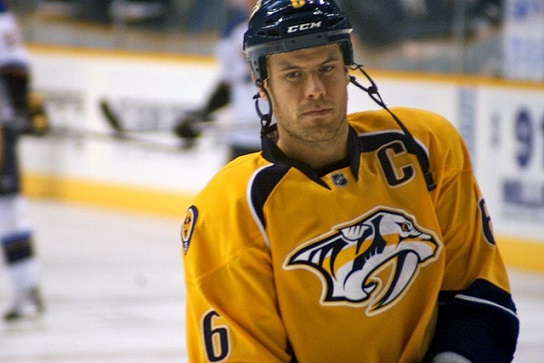 Sarah Fuqua (Flickr)
For just a moment… not the trade, not PK, not who's wearing the "C" next… I want to stop and thank Shea Weber.
"It would not be human of me to say I'm not going to miss it."
Thank you Shea Weber for what you have meant to the Predators and by extension what you mean to me and my family. I've been a season ticket holder since 2002, and proud member of Cell Block 303. As such, I've spent 41 nights a year watching you play for the last ten years. I was a fan when you were drafted. I was a fan when you were part of the team in 2006 that scored 110 points in the regular season. My daughter was born that year and has not known a time that you weren't on our team. I was a fan when you won an Olympic gold medal the same year your d-line partner came home with a silver. That included the game you shot the puck THROUGH THE NET during the contest against Russia. In the Cell Block, we say "give it to Shea, and get out of the way!". I was a fan when you became our youngest captain at 24. I was a fan when you were nominated for the Norris Trophy, won your second Olympic gold, won the hardest shot contest in two of your five NHL All Star appearances, and won the Mark Messier Leadership award just last week. I was a fan because you were slow to anger, but when "angry Shea" awoke, often in defense of a team mate, there was going to be hell to pay.
The list of your quotes is short and some would say unremarkable, but I noticed that they're always humble, always thankful, and always mindful that you are part of a team. That's not unremarkable in my book.
You were our first "home grown" captain. It didn't seem to matter who we paired you with, all great d-men in their own right, it's your line, that was always named as one of the best blue lines in hockey. You're a small town son of a hardresser and a sawmill worker who married your high school sweet heart and has used your good fortune to support cancer research, and Big Buddies, and the Special Olympics. Just a great guy, and our captain. Professional hockey is a business and for us regular Joe's and Jane's, sometimes that SUCKS! Good luck in your future ventures, both on and off the ice. Hope to see you in the finals next year.
Still a fan of heroes,
Stephen Dishman (303-F5)
"It would not be human of me to say I'm not going to miss it."
#SheaWeber #NashvillePredators #Smashville #NHL #Predators #Preds #Captain #Nashville
Here are links to some of my favorite Shea moments:
Shea and Roman messing around:
https://www.nhl.com/…/weber-and…/t-277437416/c-42801803
Shea surprises military family with locker room tour:
http://predators.nhl.com/club/news.htm?id=778782
Shea shoots the puck through the net:

Shea shoots the puck through the boards:
Shea shoots the puck through a goalie:
Stars goalie takes Shea Weber slapshot to the groin, crumbles
and another one …
Frederik Andersen Survives A Shea Weber Slapshot Off The Mask