Three Minutes With: 2009 first round pick Ryan Ellis…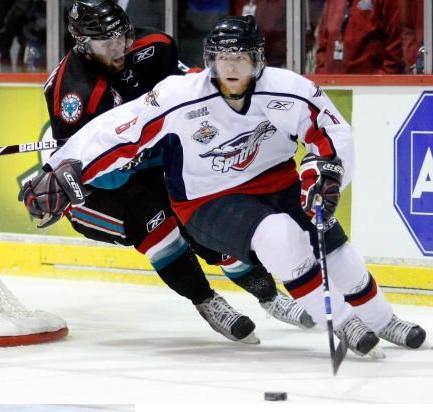 This is the ninth in a multi-part series leading up to the 2010-11 regular season.
—-
To help bridge the gap between now and the regular season, we will be doing a series called Three Minutes With. Every installment will be with a different member of the Nashville Predators family. Could be players. Could be coaches. Could even be fans.
In the ninth installment we have Predators defensive prospect – and two-time Memorial Cup champion – Ryan Ellis. Ellis was, far and away, the best player in Nashville's Development Camp this past July and some would even argue that he could've played with the Predators last season. Instead, he was sent back to his junior club, the Windsor Spitfires of the Ontario Hockey League, and eventually became only one of a handful of players who can say they won the Memorial Cup Championship in consecutive seasons. Since the Memorial Cup took on it's present format in 1983, only 33 players have ever won the Cup twice in a row on the same team. Ryan Ellis is one of those 33 players. But his accomplishments don't stop there. In 2009, he won the Max Kaminsky Trophy as the OHL's best defenseman, he's won gold at the World Junior Championships, he's won silver at the World Juniors and, of course, he was taken 11th overall by the Predators in the 2009 NHL Draft. Now he'll be fighting for a chance at an NHL roster spot in training camp. Keep in mind, however, due to an NHL rule, Ellis can not be sent to the AHL affiliate Milwaukee Admirals. He's 20 years old and thus must either play for Nashville or be returned to his junior club. The catch? Once returned to Windsor, he's there until their season is over. So therein lies the decision for Barry Trotz and David Poile. Keep a young kid as dynamic as Ellis? Or return him to a place where they can't touch him until at least April? I wouldn't want to be in their shoes.
Jeremy K. Gover: Your season has already started in Windsor but you're here in Nashville for camp. For those who don't know, can you kind of explain how it works when it comes to balancing your junior season and NHL training camp?
Ryan Ellis: Yeah, the NHL takes priority over your junior club so whatever the NHL wants to keep you for. If they want to keep you forever, of for a few weeks, or for a few days, that takes priority over anything else. But yeah, you report to your junior club, kind of work out and do your things there and then, when you come to the NHL camp, you try to stick here.
JG: Take us through the emotions of winning two consecutive Memorial Cups. Not a lot of people can say that.
RE: Yeah it was pretty awesome. I think the first one was probably the more special one. It was a lot of fun and it was the first time around and that was the best part of it all. But the second time around we had a great team. We did a lot better than we did the year before. I don't want to say we dominated but we played very well for the majority of the tournament so I think anytime you win something like that it's pretty awesome.
JG: What was it like to see Linus Klasen go down on such a dirty hit by the Panthers' Chris Clackson in the rookie games in Florida?
RE: It was kind of a cheap shot. He's a skilled guy so he tried to cut in and pull a toe-drag off. He's the kind of guy who can make plays like that and someone just kind of blindsided him. It kind of reminded me of the Savard hit almost and that's a dangerous hit. It's just unfortunate but it all just happened so fast. No one really caught what even happened, it was during the play and everything so, yeah, it was an unfortunate hit. I think he'll be fine in the next week or so but it just sucked to see a teammate go down like that.
JG: There are a lot of people who would love to see you in the lineup this year, at least for the first nine or ten games. What are your expectations for yourself coming into this training camp?
RE: I want to be here, for sure. There's a lot of defensemen here and there's a lot of good players so you've got to prove your case, you've got to make (the coaches) make a tough decision and hopefully be a part of that tough decision in a positive manner. And, if it is only nine or ten games, or if it's the whole season, I think just having that chance is awesome.
JG: Great, thanks.
RE: Sure.