Three Minutes With: Team USA gold medalist Jimmy Vesey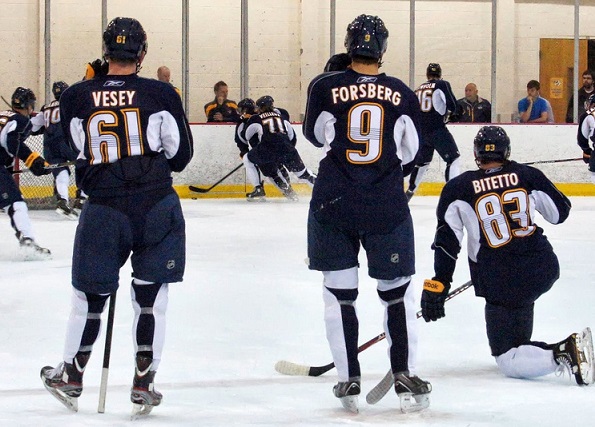 Every year during Development Camp, we pick Nashville Predators prospects, players, coaches and personalities to be a part of our Three Minutes With… interview series. The summer of 2013 is no different and we're bringing you a great lineup this year.
In today's edition, we sit down with Harvard Crimson winger, World Juniors gold medalist and Predators prospect Jimmy Vesey. The 2012 third round pick excelled as a freshman at Harvard last season. He was named to the ECAC All-Rookie Team and ended up third on the Crimson in scoring with 18 points despite missing five games. He was also a first line winger that helped Team USA to gold at the 2013 World Junior Championships this past January. We sat down with the 20-year old North Reading, Massachusetts, native and asked him about playing for his country over in Ufa, Russia, his expectations of development camp and what it's like playing (and studying) at Harvard.
***
section303.com: What was it like going over to Russia and playing in the World Juniors?
Jimmy Vesey: It was a once-in-a-lifetime thing. That was my last year of eligibility and maybe the only time I'll ever play for the USA so that was awesome. To be in Russia, that was a little wacky but the guys came together and I couldn't be happier with the result, winning the gold.
303: Was there a lot of anxiety whether you'd make the team or not?
JV: Oh yeah, definitely. We had a summer tryout in August and I didn't really think I performed to my best. It was the highest level I'd played to that point so I wasn't really adjusted to the pace. Luckily they kept me (in mind) and I did well up until Christmas for Harvard. Then they brought me back to the key tournament camp. But, even then, I played one exhibition game, got scratched the next, so I didn't know what to think. I was happy to be on the team (in the end).
303: Obviously, anytime you can play for your country and win a gold medal you want to be a part of it but talk a little bit about what it was like to be that instrumental for your team and not just a healthy scratch in the press box every night.
JV: It was awesome and I would have accepted any role on the team just to experience the World Juniors. But luckily the coaches– we were looking for a spark. We had lost two in a row and, luckily, I was the guy the coaches called on to go up to the first line. I think my line just kind of took off with chemistry and what not. Then we won it all.
303: Not only did you choose the collegiate route but you chose Harvard of all places. What's the student life like for you and how are you handling everything?
JV: It can be a lot to balance for some people. It's definitely not for everybody with the tough academics and what not but I'm a pretty good student so I can manage the academics. And then, with hockey, we play at the highest level so it's kind of like the best of both worlds. All the guys on the team are great guys. And, the student life, everyone's really friendly and stuff like that so it's a good time.
303: What can you take back to college from an experience like an NHL development camp?
JV: Well, I think, here I'm around guys who are playing in Milwaukee or Cincinnati or some of them have even spent time with the Preds. And then I'm around the coaching staff and trainers and guys like that. So I'm really learning what it takes to prepare everyday and really see what it takes to be a professional hockey player. I'm just going to try to take a good work ethic back to school and work hard everyday.
303: Is the transition easier when you look around here in Nashville and see your World Juniors teammate Seth Jones and your Team USA head coach Phil Housley?
JV: Yeah definitely. I didn't really know anyone last year. I kind of kept to myself but this year it's good to have Seth and Coach Housley here. It's always good to see a familiar face. We went through something special together and there's a bond there. Only three American teams have won gold (at the World Juniors) so we'll have that bond for the rest of our lives.
303: I have to ask you this… where is your gold medal?
JV: It's at home. On a shelf in my room.
303: That's awesome. Thanks so much.
JV: No problem.
—
PHOTO CREDIT: Sarah Fuqua (used with permission)