Three Minutes With: Preds prospect Zoltan Hetenyi…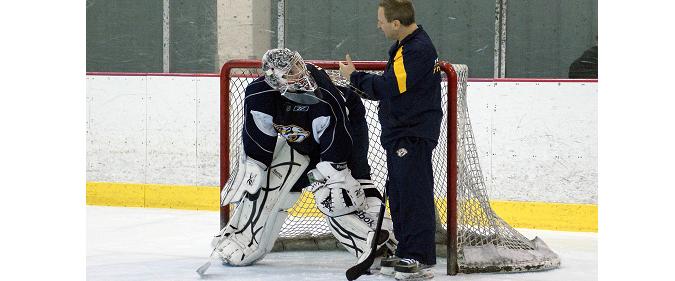 During training camp last week, we sat down with Nashville Predators prospect Zoltan Hetenyi. The Hungarian goaltender was invited to Development Camp last summer and impressed the brass. As a result, he was offered a one-year contract within the organization. He's been playing with the Predators' ECHL affiliate, the Cincinnati Cyclones, ever since.
His 2.33 goals-against average and two shutouts are both tops on the club but he's only recently turned things around. He's played less than half as many games as starter Brian Foster (a Florida Panthers prospect) and his 4-4-0-1 record indicates that. The good news? The current .913 save percentage in his stat line is a vast improvement over what it was during the first few months of the ECHL season.
We spoke with Hetenyi about his struggles early on, his first experiences in North America and the opportunity to be in and NHL training camp.
***
section303.com: It's no secret that the goaltenders here in Nashville are set and that you're here to work with goaltending coach Mitch Korn. That being said, this is a very unique experience. What's it been like working with the big club this week?
Zoltan Hetenyi: This is the best week of my entire life. It's unbelievable that I can practice with these kind of players. It's a really, really big experience for me to get to know the guys and it's an honor to talk with Chris Mason, Pekka Rinne and the other guys. They've treated me really good, you know? I think I can learn a lot during this week and I wish that, at some point in my career, I can come back and play on the same team with these guys.
303: What's the experience in Cincinnati been like for you? I know you struggled early on but you have the team's only two shutouts and you've really come on as late. What's that been like to get your feet wet in the smaller North American rink?
ZH: I had issues at the beginning of the season. I was struggling, like you said, and it was really hard to adjust to the North American style of play. The crease is different, the angles are different so I had to change my positioning. I have to be more a little bit more aggressive and I have to be aware of my rebounds. You really have to focus on your game because, if there's a breakdown, they'll score one or two goals. So I had to pick it up because I know this is my tryout year in the States and I would like to prove myself to Mitch Korn and to everybody that they can rely on me for the (long term). I would really like to make this season as good as possible and, if I'm going to have a good season this year than that could be the foundation for next year to stay here and become an even more and more experienced goalie in North America.
303: Was it a culture shock for you at first? Coming from Finland and knowing you were going to be here for a full season?
ZH: Yeah, everything is different but I'm kind of used to it now. I have good teammates in Cincinnati and I can get along with anybody, fortunately, and even here (in Nashville), I had dinner with NHL goalies and Mitch Korn yesterday. That was unbelievable for me. I really like the job they're doing here and I would like to do the same thing in my life. But yeah, like I said, it was a little bit of a change in lifestyle here in the States. But, like in the games, you have to adjust to the things in your life.
303: You were invited to Development Camp, you impressed and earned a contract. How exciting was that?
ZH: Oh absolutely. It was a really big thing for me. The year before, when I played for Jokerit, I was on a tryout for three months and, as a Hungarian, you have to work two or three times as hard as the other guys do. But I think that's a good thing. Every day I have to give my best and that's how I become better. I was really excited to come here. I couldn't believe it could happen to me. I was never drafted and I was one of the oldest guys here (in Development Camp) but it was an honor for me and I appreciated that opportunity. It was good to meet those guys and, finally, everything worked out pretty good. They offered me this chance to stay and play this season here. I couldn't be happier.
303: Have you been able to look around the city of Nashville or is there just no time?
ZH: Yeah, in the summer we went downtown. I think this is the best city I've seen so far. I've been to Chicago and a couple of other places but the downtown here in just unbelievable, especially in the summer time. It's a busy downtown, even if it's only one street. Live music and country music it's just… special.
303: Thank you very much.
ZH: Thank you.
—
PHOTO CREDIT: Sarah Fuqua (used with permission)