Three Minutes With: Preds tough guy Wade Belak…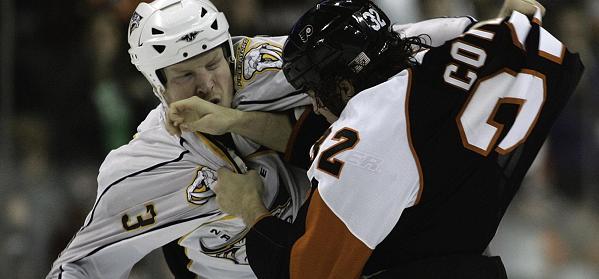 This is the eleventh in a multi-part series leading up to the 2010-11 regular season.
—-
To help bridge the gap between now and the regular season, we will be doing a series called Three Minutes With. Every installment will be with a different member of the Nashville Predators family. Could be players. Could be coaches. Could even be fans.
In the eleventh installment we have Predators enforcer Wade Belak. The 34-year old veteran stopped by to talk with section303.com after Monday morning's training camp session. Surprisingly, not only did he talk about the riggers of camp, but Belak spoke very candidly about the disappointing first round series loss to the Chicago Blackhawks last season and how the team has to learn from the experience.
Jeremy K. Gover: You're looking pretty spry out there. You all ready for the season?
Wade Belak: Ah, I think today was hump day. Third day's always the worst, just ask our coach. The first two days went pretty good. Today, it was probably no indication of how we felt, we were pretty slow out there, pucks are bouncing around but that's what training camp is for I guess. To get out all the kinks and bad habits so that's what it's all about. We're all pretty sore with sore groins, hip flexers, stuff like that but that's why they have training camp.
JG: Developing any chemistry with anybody out there?
WB: Well we've got extra forwards so, during the first practice, I was playing a little bit of D. So, I'm kind of the rover right now, I've got to go back and forth wherever I'm needed so it's hard to say where I'm slated once the season starts.
JG: How'd you spend your summer and what did you do in the off-time?
WB: I was here pretty much all summer. You know, in August I got accepted to Williamson County Fire Rescue Squad, so I'm just now completing the volunteer certification so with a few more classes and a few more tests, I should be ready to go. That's pretty much what I did in the off-season. Oh, and I went to a few NASCAR events.
JG: How tough was the first round loss to Chicago considering how closely you matched up with them and how far they went?
WB: Oh it's tough. You know, you look at game five where we should have won that game. I think that'll be in the back of our minds for a long time and just knowing how close we were. You know, they weren't really ready to play us and we should've taken advantage of that because who knows what could've happened. Well, we could've been advancing to the second round, anyway, for the first time in this franchise's history. So, to see them go on and pretty much walk through everybody else and just to know that we were that close to knocking them off… it's frustrating. It was obviously not meant to happen because the next game (there were) seven goals in the first period there with a couple of bad bounces. But that's hockey for you.
JG: Do you use that as motivation this year or do you try to completely forget about it and move on?
WB: Well, I think you learn from it, I don't know, it was a very freak circumstance (in game five). You know, a five minute power play and the turn over and they get a face-off and they tap one in backdoor and then we couldn't get anything going on the power play. It was just kind of the way it was going last year with our power play and to get an unlucky break like that, we just have to put it away. We've got some new guys that should be able to step in and make our power play a lot better. That's the thing with every year, you try to get better and bring in new guys to try and change up that chemistry so hopefully it works out for the best.
JG: Thanks so much.
WB: Yeah, no problem.