Veterans, not rookies, lead Predators past Atlanta…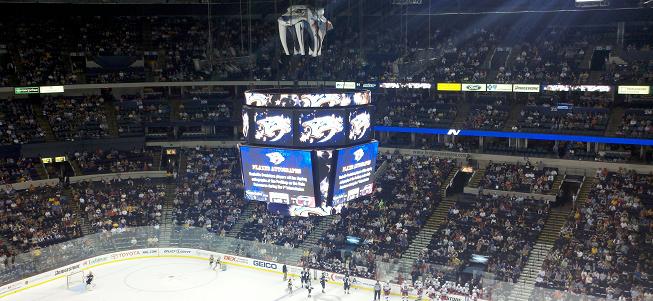 Martin Erat, David Legwand and Ryan Suter. Not exactly guys looking to make an impression so they can make the roster. But those were the three goal scorers in tonight's 4-3 win over the Atlanta Thrashers.
As a matter of fact, the heavyweight title bout of this contest was supposed to be the battle for back-up goalie between Anders Lindback and Mark Dekanich. Lindback was given the starting nod but, it was expected, Dekanich would come in in relief.
That never happened.
Dekanich was forced to sit and watch as Lindback went the distance, stopping 25 of 28 Atlanta shots. Not quite what we've come to expect from the big Swede. In his previous two pre-season games, Lindback had allowed just one goal on 30 shots. So, to let in three in one night, was not a good sign.
But where does that leave Dekanich?
Head Coach Barry Trotz mentioned before the game that Pekka Rinne would play all 60 minutes of Sunday afternoon's game against the Washington Capitals, leaving Dekanich without a final chance to make an impression. But will that change given Lindback's performance tonight? Dekanich, for one, certainly hopes so.
The good news for the Nashville Predators? Free agent signee Aaron Johnson separated himself from Alexander Sulzer as far as the race for the 7th defenseman goes. Johnson collected two assists and finished a plus-1 tonight, while logging over 18 minutes of ice time.
GAME NOTES:
* Erat scored twice and tallied an assist.
* The Predators had two – count 'em TWO – power play goals tonight. Suter and Erat's second of the night.
* Niether Cal O'Reilly nor Sergei Kostitsyn seemed to make much of an impression tonight. Not good for either guy considering they're both fighting for a roster spot.
* Suter and Legwand led all Predators skaters with four shots each.
* The final game of the pre-season schedule for Nashville is on Sunday afternoon in Washington, DC. The game will not be broadcast on 102.9 The Buzz so you'll need to listen to the Caps radio feed to hear the game. Puck drops at 11:30 Central.