Why the Predators should stand pat at the trade deadline…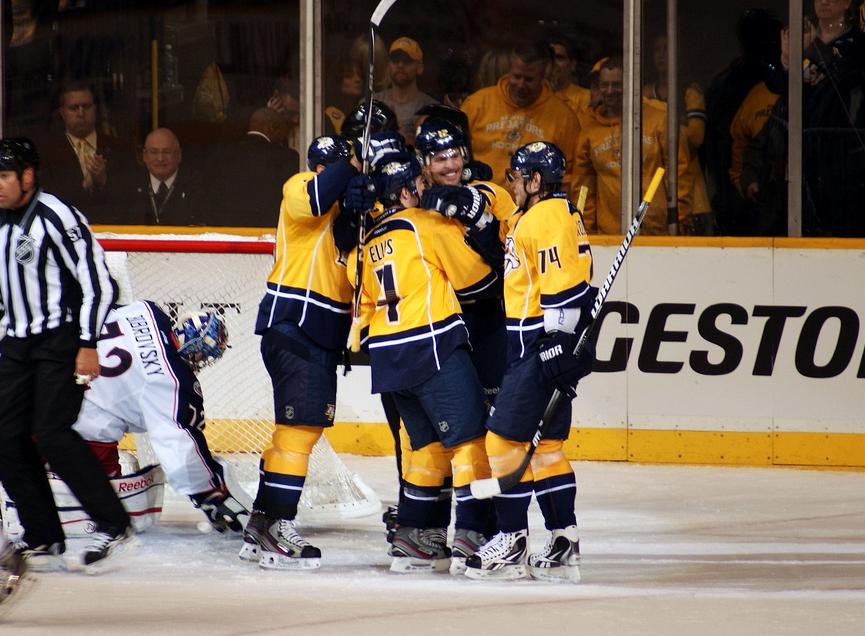 At 14-14-8, the Nashville Predators find themselves in 11th place in the Western Conference just 24 hours before Wednesday's NHL trade deadline. That means they're sellers, right?
Not so fast.
Thanks to forcing overtime against both the Colorado Avalanche on Saturday and Chicago Blackhawks on Monday, the Predators are just one win out of a tie for 8th. Which means they're buyers, right?
Not so fast.
The inconsistency with the Preds this season has been alarming, to say the least. They went on a four-game win streak followed by a three-game stretch in which they scored just two goals. Later, they bagged nine goals in two games and were then shutout in the next two. Then, during the month of March, they finally found their offense (42 goals) but lost their focus on defense, managing to lose seven of their 12 games.
It's rather easy to see why General Manager David Poile doesn't know whether or not to be a buyer or a seller. Which team is truly his team? Is it the Predators who averaged three goals-per-game in March and allowed just 11 goals in nine games between January 30 and February 16? Or is it the Predators who have the fourth worst offense and fifth worst defense in the West?
It's a gamble either way for Poile. Sure, complimentary forwards like Marcel Goc and Steve Sullivan would only cost marginal assets but that's not what the Preds need. Anybody of value (such as Jason Pominville or Mike Ribeiro) will undoubtedly cost him his first round pick this summer. If he decides to sell, he could be parting with pieces that could get his team into the post season for the eighth time in nine years. However, if he buys and doesn't get in, it's a worst-case scenario.
The best alternative is to stand pat and let it ride.
The top of the 2013 draft class is stacked. Defenseman Seth Jones, forward Jonathan Drouin and center Nathan MacKinnon are considered can't miss studs who will impact their NHL squads next year. Same with Finnish center Aleksander "Sasha" Barkov. And, with every non-playoff team being eligible to win the first overall pick this season, Nashville has a shot at an elite player or an elite center — someone who could eventually prove to be a key piece to a Stanley Cup puzzle — even if they finish in 9th.
Remember, the Predators have never chosen in the top five of the draft (sans David Legwand in 1998, before the team even took the ice). Think of what this team could be with an elite talent at forward like Drouin, MacKinnon or Barkov. Now take that one step further. What's the one thing Nashville needs and has never had? A top line center. What's a common thread amongst recent Stanley Cup Champions? A top line center. Carolina took Eric Staal second overall in 2003. Pittsburgh drafted Evgeni Malkin second overall in 2004 and then Sidney Crosby first overall in 2005. Chicago drafted Jonathan Toews with the third pick in 2006. Finally, not a top line center that year but certainly one in the future, Tyler Seguin was taken at number two by Boston the summer before they won the Cup in 2011. Could MacKinnon or Barkov follow suit?
We've seen a handful of moves already. Included in the deal for Jay Bouwmeester yesterday, the St. Louis Blues sent the Calgary Flames their first round pick (conditional). And when the Flames sent their captain Jarome Iginla to the Pittsburgh Penguins a few days ago, guess what came the other way? You guessed it, a first round pick.
To get anything of value by tomorrow's 2:00pm Central deadline, Poile would most likely have to part with his first rounder. Not only is the draft class stout but Nashville has been without their first rounder in each of the past two drafts. They didn't have one in 2011 because they dealt it to Ottawa for Mike Fisher and they didn't have one last summer because it was used to get Paul Gaustad out of Buffalo. Both moves were understandable as they were focused on a Stanley Cup run. This year, however, the team is far too Jekyll and Hyde to "go all-in" again. If you're Poile, do you really want to sacrifice what could be a top five pick only to miss the playoffs or make them and get bounced in the first round? Absolutely not.
You need a chance at that elite player. At that top line center. At that — hopefully — key piece to a Stanley Cup puzzle.
—
PHOTO CREDIT: Sarah Fuqua (used with permission)