Windsor eliminated for first time since 2008; Ellis turns pro…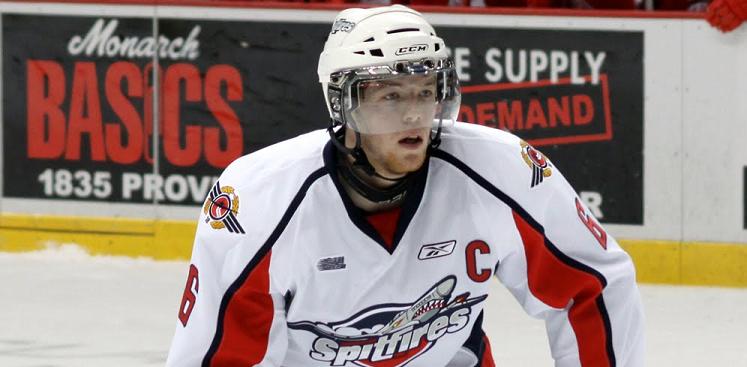 The Owen Sound Attack did something last night that no team in Canadian Major Junior has done in three years.
Eliminate the Windsor Spitfires.
Colorado Avalanche 2010 first round pick Joey Hishon led the Attack to a 10-4 Game 5 victory over the Spitfires to win their best-of-seven Conference Final series and, thereby, end Nashville Predators 2009 first round pick Ryan Ellis' legendary junior career.
But, where one chapter ends, another begins. And that means Ellis will don a professional hockey jersey for the first time in his life soon. While there is still a possibility he'll join the Preds so he can skate with them in practice, he is expected to join the Milwaukee Admirals as early as today.
The Freelton, Ontario native was ready for the professional level at the start of the year but, due to NHL and AHL bylaws, any 20-year old player who still has junior eligibility must either play in the National Hockey League or be returned to his junior club. As a result, Ellis was sent back to Windsor where he was named team captain, achieved new career highs in goals (24), assists (76) and points (100), broke Joel Quenneville's franchise record of 229 points by a defenseman, finished the regular season as the OHL's fifth leading scorer despite playing 10 less games than the top guy, was the fourth leading playoff producer (19 points in 18 games), was named the OHL Defenceman of the Year and, last but not least, became second on the franchise's all-time scoring list with 313 points. He even broke a 30-year old World Junior Championships scoring record this past December.
Not bad for a season's worth of hockey, eh?
He'll most likely join the Admirals in time for their West Division Finals series with the Houston Aeros. That second round series starts tomorrow night. But, like I said, there's still a slim chance he'll join Nashville. Not for any game action but to skate with them in practice, work out with them off the ice and, of course, get a head start on the system. Afterall, he wouldn't be the first prospect to bypass the AHL after his season has ended. In 1997, current NHL On the Fly panelist Mike Johnson left Bowling Green State University to join the Toronto Maple Leafs without going to their minor league affiliate. In 2006, Hobey Baker winner Matt Carle saw his University of Denver season come to an end and promptly joined the San Jose Sharks without heading to Worcester. And, in 2008, Jesse Winchester left Colgate University to don an Ottawa Senators jersey instead of donning a Binghamton one first.
Ellis is unlikely to take that rare path (especially because each of those guys saw immediate playing time at the NHL level) but the possibility remains.
Just don't count on it.
—
PHOTO CREDIT: Tim Cornett // windsorspitfires.com (used with permission)