2010 first round pick Austin Watson inks entry level deal…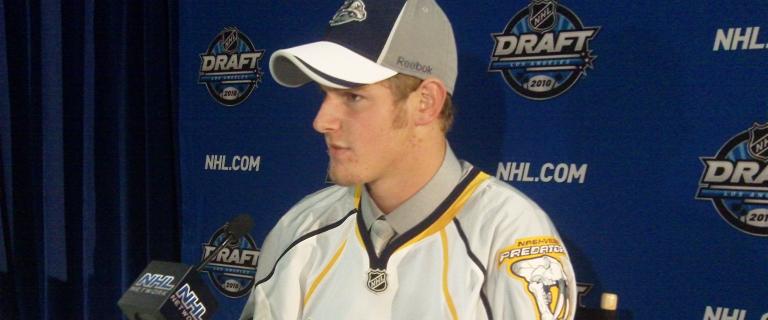 According to the Nashville Predators, they have signed 2010 first round pick Austin Watson to an entry level contract.
The 19 year old Ann Arbor, Michigan native was selected 18th overall by Nashville and spent last season centering the top line of the Peterborough Pete's of the Ontario Hockey League. Peterborough struggled this season, registering just 20 wins. Watson finished with 68 points in 68 games, good enough for second on the club in scoring. Furthermore, his 34 goals were tied for the club lead.
Despite being on an awful team, Watson still tied for 41st in OHL scoring and 23rd in goals. Impressive numbers for a guy who finished with minus-38 rating.
Watson won a Memorial Cup in 2009, along with fellow Predators first round pick Ryan Ellis, with the Windsor Spitfires. In order to up his draft stock, Watson waived his no trade clause in order to get out from under the shadow of Windsor superstar centers Taylor Hall and Greg Nemisz as well as other blue chip prospects Cam Fowler and Ellis. He responded by posting 20 points in 10 games with Peterborough last year.
Hall (2010, Edmonton), Nemisz (2008, Calgary), Fowler (2010, Anaheim), Ellis (2009, Nashville) and Watson (2010, Nashville) are all NHL first round picks.
(Boy, Windsor had it made, didn't they? Yikes.)
Watson will reportedly join the AHL-affiliate Milwaukee Admirals on a professional tryout basis. Consensus is that he's a long way from the NHL but, then again, when you don't have much of a supporting cast around you, you can only go so far. Maybe he'll flourish with the Ads.
—
PHOTO CREDIT: Jeremy K. Gover // section303.com