With five games remaining, some stats to keep in mind…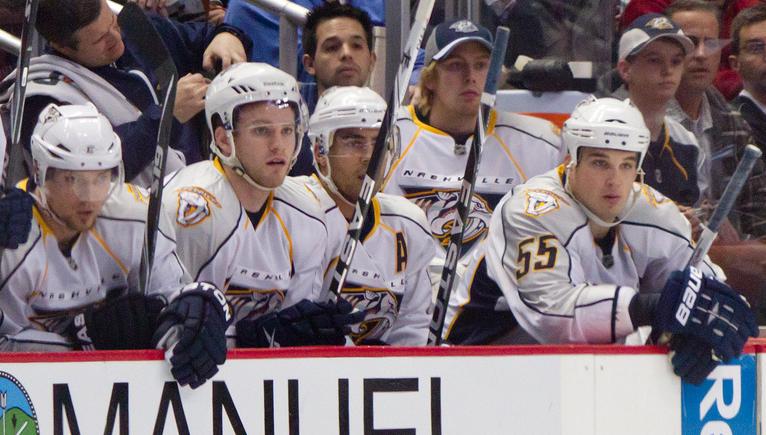 The Nashville Predtors have a mere five games left in their 2010-11 regular season. Despite having played 77 times already, nothing is decided as far as the playoffs go. They are currently in 7th place with 92 points and are five points up on the 9th place Dallas Stars and 10th place Calgary Flames. But Dallas has two games in-hand on Nashville and, quite frankly, the Preds could be caught complacent in their final three games, all of which are against non-playoff teams (Atlanta, Columbus and St. Louis).
So what are some things to keep in mind during the final week and a half of the NHL season?
In their 13 year history, the Nashville Predators have never…
…missed the post season when registering 90 points in the standings. (They have 92.)
…missed the post season when losing in regulation less than 12 times at home. (They've lost nine.)
…missed the post season when scoring more than 216 goals in a season. (They've scored 203.)
…missed the post season when finishing second in the Central. (They're currently in second.)
…(since the lockout) missed the post season when posting a positive goal differential. (They're at +21.)
…made the playoffs without a 20 goal scorer. (Both Patric Hornqvist and Sergei Kostitsyn sit at 19.)
…made the playoffs with a leading scorer under 51 points. (Martin Erat and Shea Weber lead with 46.)
…made the playoffs when a defenseman has led them in scoring. (Weber is tied for the lead)
…made the playoffs without Ottawa and New Jersey also making them. (Both are mathametically eliminated.)
With a win against Colorado tonight, the Preds will be in really good shape. They'd be back in the 6th spot and would be seven points up on both Dallas and Calgary, which are the only teams on the outside looking in that have a shot.
The crazy thing? There's still time for all of those "never made the playoffs" stats to hold true. Which, if your a Predators fan, is a great thing.
—
PHOTO CREDIT: Bridget Samuels // special to section303.com (used with permission)