2011 4th round pick Josh Shalla signs with Preds…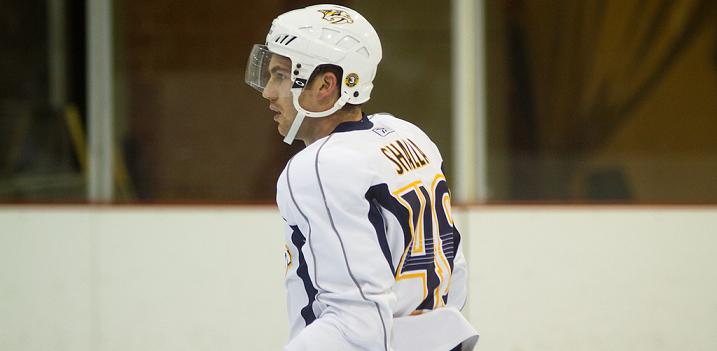 Per his junior team's website, Nashville Predators 2011 fourth round pick Josh Shalla has inked a three-year entry level deal with the Nashville Predators.
Shalla was left undrafted in 2009. Then again in 2010. General Manager David Poile and the Predators weren't about to let that happen again in 2011.
Shalla, 20, was taken 94th overall in the National Hockey League Entry Draft, fresh off of a 72 point season (47 goals, 25 assists) with the OHL's Saginaw Spirit. He followed that up with 76 points in 15 less games this season. His 213 career points make him the third highest scorer in Saginaw franchise history and the second highest scorer among players that only played three seasons for the Spirit.
Additionally, his 119 career goals put him atop the franchise's all-time list in that category. If the Predators went into the 2011 Draft looking for goal scoring, they found it in Shalla.
The Whitby, Ontario native tipped off the Twitter world on Sunday night with the following tweet.
He then followed it up with a little confirmation of the contract on Tuesday.
The Spirit's leading goal scorer each of the past two years is slated to the join the Predators' AHL affiliate, the Milwaukee Admirals, for their playoff run.
The official press release is posted below.
***
Nashville, Tenn. (April 18, 2012) – Nashville Predators President of Hockey Operations/General Manager David Poile announced today that the club has signed 2011 draft pick Josh Shalla to a three-year entry level contract. He will join Nashville's primary developmental affiliate – the American Hockey League's Milwaukee Admirals – on an Amateur Tryout Agreement (ATO) for the 2012 Calder Cup Playoffs.
Shalla, 20 (9/25/91), finished his career as the all-time leading goal scorer in Saginaw Spirit franchise history, recording 133 goals in three seasons with the club. The Whitby, Ont., has ranked among the Top 10 in Ontario Hockey League goal scoring the past two seasons, tying for eighth in 2011-12, despite missing 15 games (40), and ranking fifth in 2010-11 (47). Shalla reached the scoresheet in all but four of his final 30 2011-12 regular season games, amassing 50 points (24g-26a) in that span, to finish ninth in the OHL in points per game (53gp, 40g-36-76pts, 1.43 ppg). The 6-2, 203-pound left wing also posted 14 points (4g-10a) in 12 2012 OHL Playoff contests.
Nashville's third choice, 94th overall (fourth round), in the 2011 Entry Draft finished second in the "Hardest Shot" category and tied for second in the "Best Shot" category of the 2012 OHL Western Conference Coaches' poll in addition to being voted third-most dangerous player in the goal area for the second consecutive season.
—
PHOTO CREDIT: Rachel Rosato // Rachel Addison Photography (used with permission)