Preds overcome disallowed goal, take 3-1 series lead…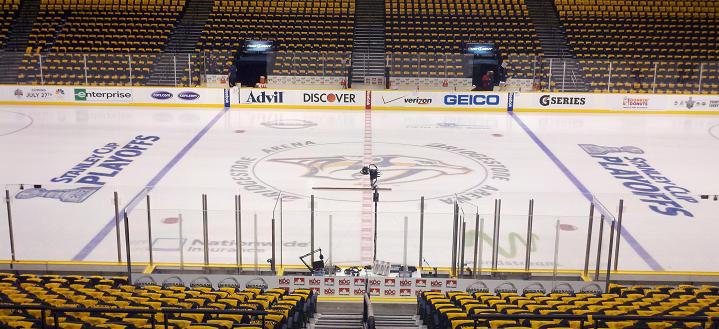 Brace yourself, Preds fans. Your Nashville Predators are headed home with a 3-1 series lead.
In front of 20,066 inside Joe Louis Arena on Tuesday night, the Preds did the unthinkable: completed the sweep in Detroit. Goals from Gabriel Bourque, Kevin Klein and David Legwand provided the offense while Pekka Rinne's 40 saves provided the defense in the 3-1 win.
Legwand thought he had scored early in the third period but the officials ruled "intent to blow" the whistle and the goal wasn't allowed to stand. For most teams, something like that would take the wind out of their sails. Instead, it pissed Nashville off and made them more determined. Bourque would tally just moments later, his third of the playoffs.
Detroit answered right away with a Jiri Hudler goal but, showing even more character, Kevin Klein buried his second in as many games just 3:11 later. Klein's goal would eventually become the game-winner.
Legwand would add a third marker in the final minute to put the final nail in the coffin.
The Red Wings were 31-7-3 on home ice during the regular season, including an NHL record 23 straight wins from November 3 through February 22. That impressive run (and win-loss record) on Joe Louis ice was one of the reasons Nashville needed to keep Detroit out of fourth place.
Or so it was thought.
Nashville beat the Wings in game three and then did the same in game four, taking a 3-1 series lead.
The Predators now have three chances to win the series, the first being Friday night in front of their home town fans in game five.
Puck drops at 7:00pm. You may want to be there. You just might see some history.