303 PRIMER: 3 things to watch when the Preds play the Sharks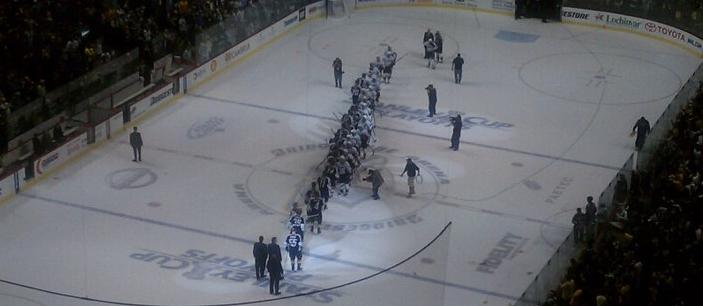 1. DON'T BE FOOLED BY THEIR RECORD
If you ask any athlete, in any pre-game environment, about the struggling team they're about to face you'll get the same the same cliche answer: "That's a good team over there and they're going to be ready for us." Blah blah blah. The San Jose Sharks are currently dead last in the Pacific Division (that's right, even the Phoenix Coyotes are ahead of them) and are a point behind the Nashville Predators in the Western Conference. But we know that's not the caliber of team they are. So, for once, a cliche answer would be correct. While defense is the problem in Silicon Valley, goal scoring can come from anywhere and that's what makes this team dangerous on any given night. If the Predators treat them like an elite opponent, and not a conference bottom dweller, then the Sharks won't be able to jump out to quick lead and surprise the Preds early on in the contest.
2. DON'T BE FOOLED BY YOUR OWN RECORD
Have the Predators played like a 3-3-1 team this season? Absolutely. But are they "a .500 team?" Absolutely not. This is a team that boasts a Vezina Trophy finalist in Pekka Rinne, a Norris Trophy finalist in Shea Weber, another guy who Head Coach Barry Trotz says will win a Norris Trophy before his career is up in Ryan Suter, and plenty of guys who can put up points in… well, there's too many to mention. This team is a lot better than the 3-3-1 record it boasts currently. If they can play to their potential, and not their record, then the Predators should have all the confidence in the world to go up against the mighty-yet-struggling Sharks.
3. WELCOME BACK SOME OLD FRIENDS
Center Mike Fisher and defenseman Francis Bouillon will make their 2011-12 season debuts tonight. But welcoming back some old friends doesn't mean that those friends will help you with your problems. If the Predators think that Fisher and Bouillon are going to put up all the shots that were missing in Edmonton (12) and Calgary (14), they're sadly mistaken. Both guys are coming off of injuries that have kept them out long periods of time. Fisher has been out with a shoulder injury since the end of the playoffs last May and Bouillon hasn't played since suffering a concussion on January 16. They're hardly in game-shape, let alone going to fire seven shots on goal a piece. Nashville needs to realize that they're just gears, not the whole machine.
STAT OF THE DAY: The Predators haven't won a game inside the friendly confines of Bridgestone Arena since they beat the Anaheim Ducks on April 24. The first triumphant handshake in franchise history was also the last home triumph in franchise history.
AROUND THE LEAGUE: Will the Columbus Blue Jackets finally win a frickin' game? Probably not tonight as they face-off against the Detroit Red Wings. If the Blue Jackets do, in fact, lose tonight then they'll fall to 0-8-1 in their opening nine games. Former Predator prospect Mark Dekanich could be the answer in goal for his new team but isn't expected to join Columbus until late next week. According to Aaron Portzline he will do a conditioning assignment in the AHL first.
—
PHOTO CREDIT: Kristen Melancon // Cellblock 303 (used with permission)