Sharks win, extend Preds home drought to six…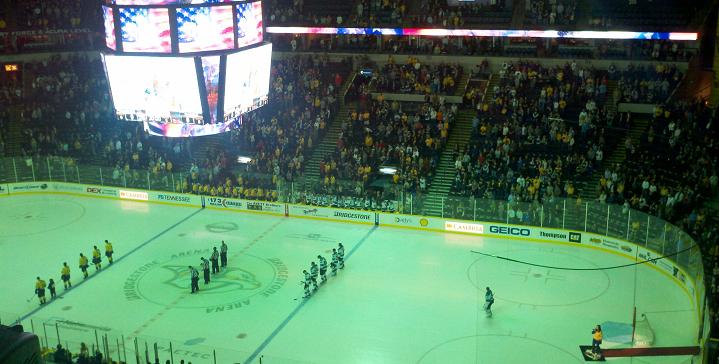 Sometimes home sweet home isn't so sweet.
In front of 15,121 at Bridgestone Arena, the Nashville Predators lost their sixth straight home game, dating back to last year's playoff run. Their last victory on home soil was the playoff series clinching win over the Anaheim Ducks on April 24.
The San Jose Sharks took this game 3-1 and hurdled the Preds in the standings in the process. Coming into tonight, the Sharks were in 13th in the West while Nashville was 12th.
The Predators' offensive woes continue as they've scored just five goals in their past four contests.
Pekka Rinne was outstanding, per usual. He made 33 saves, including 17 in the first period, falling to 3-4-1 this season.
"He's been our best player this season by a country mile," Head Coach Barry Trotz said. "There wasn't anybody on our team close to him in the first six games."
Unfortunately for Nashville their best player wasn't enough.
With less than 6:00 left in the opening frame, the Sharks drew first blood when Logan Couture broke in shorthanded. Rinne had some trouble with his initial shot but the Guelph, Ontario native corralled the rebound and lifted it up and over Rinne's outstretched right pad for the score.
Let in the game, when things looked like they weren't going to get any better, the Predators found themselves on the power play and cashed in. Rookie Craig Smith got three good whacks at a loose puck and finally tied the game at 1-1, prompting Game Ops to play Jump Around during the next TV timeout.
Less than a minute later the Sharks responded to steal the momentum right back from the home team who, all of a sudden, had life. Joe Pavelski took advantage of Rinne not covering a post and then he would take advantage of no Rinne, scoring on the empty netter to put the game on ice.
"Everybody in here knows that every point in the season matters and they all add up in the end," defenseman Jack Hillen said. "They slipped away from us tonight but we have to look forward to the next game and make sure we get points then."
The Predators will have another chance to get their first home win of the season when the Tampa Bay Lightning invade lower Broadway on Thursday night. Nashville's only home point this season has come against an Eastern Conference opponent so maybe they can follow that pattern.
The puck drops at 7:00pm Central.
LEFTOVER THOUGHTS:
* Rinne made his first save just 0:07 into the game.
* Speaking of shots, Nashville was outshot 17-7 by the first intermission.
* Smith finished the game with a team high six shots on goal.
* All three of Smith's goals have been assisted by Shea Weber (props to Ryan Porth of smashville247.net for that stat).
* With Pavelski's empty net tally, Joe Thornton recorded his 700th career assist.
* Small victories? The Preds did win the face-off battle, 35-30.
* Finally, congrats to the Columbus Blue Jackets who finally found the win column this season. Also, we'd like to thank them for taking two points away from the Central Division powerhouse Detroit Red Wings and not some Eastern Conference team instead.
MY THREE STARS (as voted on with 6:11 left in regulation):
1) Pekka Rinne (NSH)
2) Craig Smith (NSH)
3) Logan Couture (SJ)
THE THREE STARS OF THE NIGHT:
1) Joe Pavelski (SJ)
2) Craig Smith (NSH)
3) Logan Couture (SJ)
—
PHOTO CREDIT: Jeremy K. Gover // section303.com