Lindback creates adorable moment before game…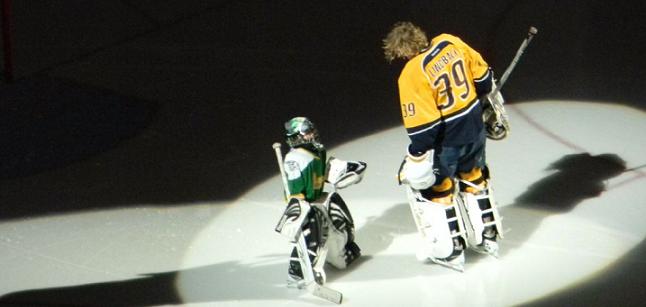 Nashville Predators goaltender Anders Lindback was part of a precious moment before the opening face-off inside Bridgestone Arena tonight.
Before every home contest, the Predators have an "honorary blueliner of the game." Tonight's "blueliner" was actually a goaltender named Michael Dillard (of the NYHL Mite Icebreakers).
Just before the National Anthem, Dillard (no taller than 4'0″) skated out and stood next to the 6'6″ netminder. Lindback bent down and chatted with the mini-goalie for a few seconds.
"I just asked him what was up," Lindback said. "Then I asked him how he was feeling out there. He looked nervous."
The following photos were taken toward the end of the anthem.
Thank you to Twitter users @diamondhockey, @HockeyChick107,  @roohound, @aziminia and @JessicaWilson6 for snapping quick photos.
—
PHOTO CREDIT: Jessica Wilson // special to section303.com (used with permission)