What will come of Tootoo's hit on Ryan Miller?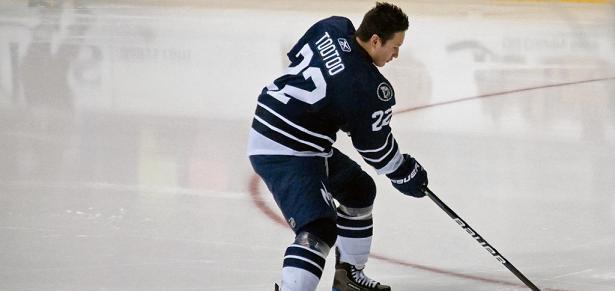 Here's the deal. We're all Nashville Predators fans. That's fine. But just because we want our team to win doesn't mean everything they do is correct.
Take Jordin Tootoo's hit Saturday night on Buffalo Sabres goaltender Ryan Miller, for example. As you'll see in the video below (stick tap to On the Forecheck's Sam Page), while Tootoo drives to the net (which is perfectly legal, by the way) Sabres defenseman Christian Ehrhoff attempts to poke check the puck away. He fails but the puck slides off of Tootoo's stick anyway.

Here's where it goes down hill.
As you'll also see, Tootoo runs over Miller with little attempt to get out of the way. Several fans have argued that his "trying to jump over Miller" is an attempt but that's not at all realistic unless he's Michael Jordan or Spud Webb. Head Coach Barry Trotz subscribed to this theory, however.
"He tried to avoid him in my estimation," Trotz said. "(Tootoo) launched himself to avoid (Miller). That's the only way to do that. I thought it was a hockey play that sorta went awry."
Buffalo's Lindy Ruff disagreed.
"You get a guy that comes off a concussion, and you've got Jordin Tootoo," Ruff said. "I want to see what the league wants to do with this one. It's a joke."
Secondly, you'll notice that Ehrhoff doesn't push Tootoo into Miller. His right arm is wrapped around him thanks to the natural progression of his attempted poke-check. Thirdly, Ehrhoff does not extend his arms toward Tootoo, thus did not push him.
Tootoo absolutely cannot run a goaltender, let alone a star goaltender like Miller. What's more is that this was Miller's first appearance since being bowled over by Boston's Milan Lucic on November 12. He suffered a concussion on that play and has missed just short of a month of action.
Does Trotz expect to hear from the league?
"Honestly, I don't think so because I really think it was a hockey play but it is Jordin Tootoo and it is Ryan Miller," Trotz said. "I think they'll look at it and see that there's nothing malicious."
Um… we'll just see about that.
Bottom line is Tootoo is probably looking at a suspension for his hit on Miller, regardless of what his coach says. Given that Tootoo is a known agitator, a repeat offender and has a tendency to be reckless at times. But that's not the only reason. As Ruff eluded to in his comments, Miller just returned from a concussion, which is atop the list of "hot topics" when it comes to the league and player safety. NHL Vice President of Hockey and Business Development and head disciplinarian Brendan Shanahan will no doubt want to make an example out of Tootoo.
Regardless of whether you think it was intentional or not, expect a five game suspension.
—
PHOTO CREDIT: Paul Nicholson // special to section303.com (used with permission)