VIDEO: Arvidsson dazzles with spin-o-rama goal in scrimmage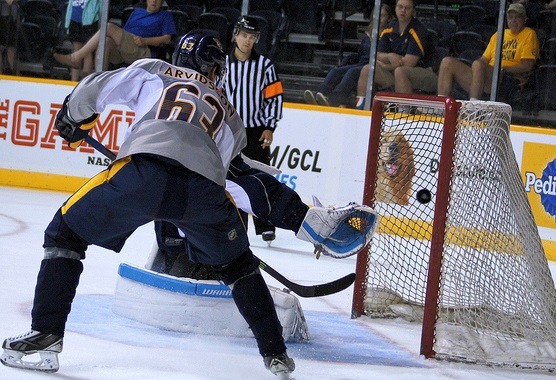 Many fans wondered why the Nashville Predators spent a fourth round pick in the 2014 NHL Draft on a 21-year old Swedish forward named Viktor Arvidsson. He had been passed up in two previous drafts, is undersized at just 5'9″ and is nearly four years older than their first round pick, Kevin Fiala.
Those questions were put to bed when Arvidsson did this on Saturday afternoon at Bridgestone Arena.
How good was it? It topped — that's right, topped — Puck Daddy's Top 5 Shootout Moves from Development Camp post.
Now obviously it's just a Development Camp shootout so creativity is expected but to have the ability to pull that kind of move off — and convert — is truly exciting.
The Skellefteå, Sweden native finished ninth in Swedish Hockey League scoring last year with 40 points in 50 games. He also helped his Skellefteå AIK club win the league championship as he posted 16 points in 14 games, third best among all post season players.
For Arvidsson, the skill is there. Can he be the same productive player on the smaller North American ice? The Predators hope to find out soon.
---
VIDEO CREDIT: The Nashville Predators hockey club // Vimeo
PHOTO CREDIT: Sarah Fuqua (used with permission)