Home
/
Player Notes
/
VIDEO: Preds prospect Kamenev gets first KHL point of the year
VIDEO: Preds prospect Kamenev gets first KHL point of the year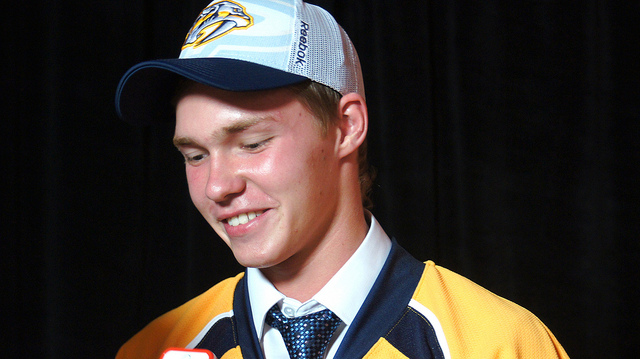 While it's a bit disappointing that Nashville Predators prospect Vladislav Kamenev couldn't get out of his KHL contract in order to join the Quebec Remparts of the QMJHL, at least he's making things happen back in Russia.
Kamenev, Nashville's second pick in the 2014 NHL Draft this past June, got some power play time from head coach Mike Keenan and helped set up Florida Panthers prospect Yaroslav Kosov on the eventual game-winning goal. His Metallurg Magnitogorsk club would go onto win 4-1.
The helper was Kamenev's first career assist at the KHL level. He played in 16 games last season and, despite seeing limited action as a 17-year old, registered one goal.
Side note #1: It takes some guts to wear the number 99 in any league. Props to him.
Side note #2: Yes, the opposing goalie was former Preds prospect Atte Engren.
---
PHOTO CREDIT: Sarah Fuqua (used with permission)
About Jeremy K. Gover
Jeremy grew up in the Bay Area cheering for the Sharks since their inception. He moved to Nashville in September of 2005 and became a season ticket holder a day later. Thankfully, he no longer bleeds teal. You can e-mail Jeremy at [email protected].
Upcoming Schedule
Carolina at Nashville

October 5, 2023 at 7:00 pm – 10:00 pm

Nashville at Carolina

October 6, 2023 at 6:00 pm – 9:00 pm

Nashville at Tampa Bay

October 10, 2023 at 4:30 pm – 7:30 pm

ESPN, ESPN+

Seattle at Nashville

October 12, 2023 at 7:00 pm – 10:00 pm

Nashville at Boston

October 14, 2023 at 6:00 pm – 9:00 pm

Edmonton at Nashville

October 17, 2023 at 7:00 pm – 10:00 pm

Nashville at NY Rangers

October 19, 2023 at 6:00 pm – 9:00 pm

San Jose at Nashville

October 21, 2023 at 7:00 pm – 10:00 pm

Vancouver at Nashville

October 24, 2023 at 8:15 pm – 11:15 pm

Toronto at Nashville

October 28, 2023 at 6:00 pm – 9:00 pm