As if hockey wasn't enough, here are more reasons to come to a Preds game…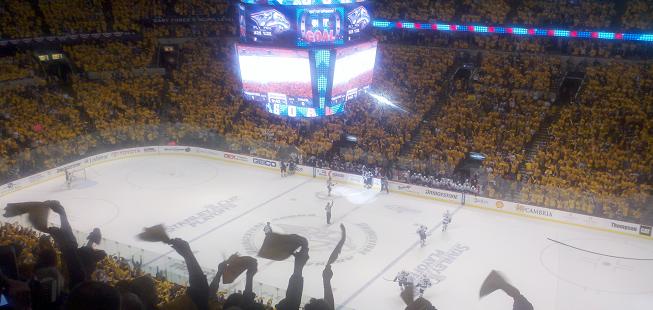 As comedian Mike Birbiglia says, "pizza's always hanging out with salad." To a Nashville Predators fan, hockey is pizza and everything else is salad.
Sometimes salad can improve the meal, however.
(Okay, I'm stretching this analogy way too far, I know.)
In Smashville, the peripheral happenings around Bridgestone Arena can add to the whole experience. Sure there's a hockey game going on at ice level and that's what you came for, but it's always fun seeing Gnash repel from the rafters, mite hockey during intermissions and, of course, the laundry list of celebrity sightings.
Speaking of celebrity sightings, the Nashville Predators Game Ops crew put together a little video showcasing the wide range of music, film and TV personalities that have taken in a Preds hockey game. Whether they live in Middle Tennessee full-time, or are just passing through, you'll be impressed by the volume of famous faces in this video.
Our only complaint? White Stripes front man and Third Man Records founder Jack White wasn't included. But hey, that's nit-picky.
—
SPECIAL THANKS TO @JessieLeigh920 for the tip!
—
PHOTO CREDIT: Jeremy K. Gover // section303.com