Blake Geoffrion reacts to your hats, gesture…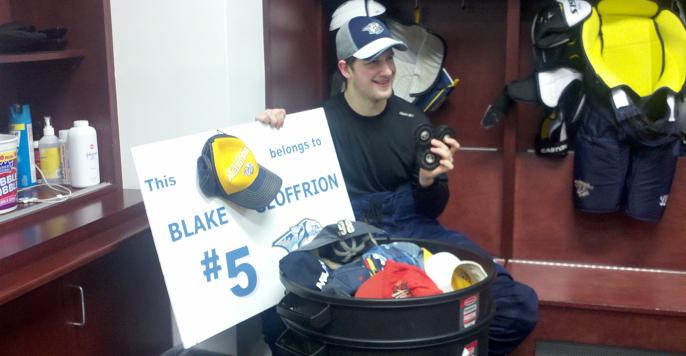 After bagging his first NHL hat trick on Sunday in Buffalo, Nashville Predators rookie Blake Geoffrion returned home to Middle Tennessee on Tuesday night to find Preds fans celebrating his feat by throwing hats into a bin at the main entrance. The hats would then be handed over to the team and presented to Geoffrion after Wednesday morning's practice.
Fox Sports Tennessee, nashvillepredators.com and every major news outlet in Nashville (WKRN News 2, WSMV Channel 4 News and Fox 17 News at 9:00) were there to film the presentation. Be sure to watch your favorite nightly newscast for the reaction.
But, while you wait, here's the exclusive interview section303.com had with the Brentwood, Tennessee native after practice this morning.
section303.com: How did you hear about the hats?
Blake Geoffrion: I heard yesterday after the game. Kevin (Wilson) had a list of things for me to do (in the morning) and that was one of the things on the list and I was like "Oh wow, that's pretty special." You know, it's kind of cool to capture the moment with a picture just to have the memory. One thing I remember, as a kid, was watching David Legwand when he scored his hat trick. It was at home. He scored his third goal on a empty netter and they collected all the hats on the ice and they put them in front of his stall. He had all the hats and all the pucks and that was kind of a cool photo that I'm sure he'll have for the rest of his life. So that was pretty cool and, to have you guys do that for me, it was very special to me and I really appreciate it.
section303.com: What does it mean to be playing for a fan base that cares enough to do a gesture like that despite the fact that your milestone was on the road?
Blake Geoffrion: Yeah, I mean, that speaks highly of our fans and how passionate they are and how respectful they are of us. I just can't say thanks enough for what they did and hopefully we can pay it back by making the playoffs and making a good playoff run.
section303.com: A year ago — almost right now, actually — you were in the Frozen Four, you were named the Hobey Baker Award winner, you were an ESPY nominee, etc. Fast forward a year later, you've played 12 games in NHL, you just recorded your first hat trick… What's the ride been like in these past 365 days?
Blake Geoffrion: Yeah, it's been a long one for sure. Not really knowing what's going to happen and going into training camp and having a lot of guys there. I knew I had to work hard if I wanted to get an opportunity and, of course, I've kinda had a little luck with all the guys that have gone down on injury but I'm just very very blessed by the good Lord that's given me the opportunity. Hopefully I can take advantage of it like I have so far and can help these guys make the playoffs.
section303.com: Finally, how fun is this for you? You started the year in the AHL and you were only called up due to injuries but you've really proven your worth here… and now you're in a playoff race. How fun is this?
Blake Geoffrion: Oh it's unbelievable. I mean, this is what you dream of, first to make the NHL and then be in contention for the Stanley Cup, which we definitely have an opportunity to do so. Every kid dreams of this in their backyard playing roller hockey or on the ice. They're saying in their minds "Here comes Geoffrion down the left wing, he shoots and scores and wins the Stanley Cup!" You know so, that's what you dream of as a kid when you make the NHL, if you ever do. So this is awesome and the best time of year.
section303.com: Thank you so much.
Blake Geoffrion: Alright man. And hey, thanks again for the hats, I really appreciate it.
—
PHOTO CREDIT: Jeremy K. Gover // section303.com