Prospects Ellis, Beck and Latta all finish in OHL's top 10…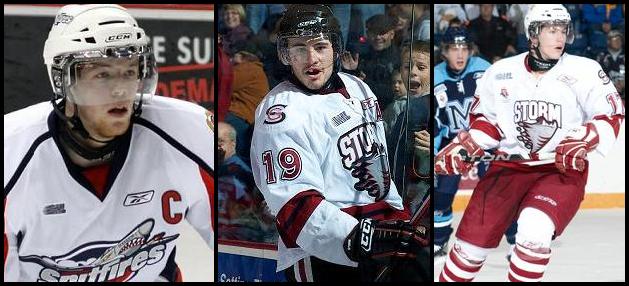 Nashville Predators prospects Ryan Ellis (2009, 11th overall), Taylor Beck (2009, 70) and Michael Latta (2009, 72) have all concluded their OHL regular seasons. All three of them finished in the Top 10 in OHL scoring.
No other NHL team had more than one prospect in the Top 10 yet the Predators had three.
But don't get too excited Preds fans. They won't be joining the Preds or their AHL-affiliate the Milwaukee Admrials just yet. All three of them will now start their quest for a J. Ross Robertson Cup (OHL Championship) and, in turn, a shot at the Memorial Cup.
Ellis and the Windsor Spitfires have won the past two OHL Championships and Memorial Cups. If they make it back to the Memorial Cup this year, they will make history as only the second team ever to go three straight years without being a host city (Predators captain Shea Weber and the Kelowna Rockets are the only team to have done it so far). Furthermore, if they win it, they will become the first team ever to win three-consecutive Memorial Cup Championships.
Ellis, the Spitfires captain, posted a new career high with 100 points, including career highs in goals 24 and assists 76. With 313 points in his four year career, he is the all-time leading scorer among Windsor defensemen in franchise history as well as second all-time regardless of position.
Beck and Latta, who were taken two picks from each other in the 2009 NHL Entry Draft, play for the Guelph Storm and finished with 95 and 89 points, respectively. Both set new career highs in scoring as well.
Being 20 years old, all three top prospects can turn pro once their playoff seasons come to an end. All are expected to join Nashville's AHL-affiliate the Milwaukee Admirals.
Windsor will play the Erie Otters in the first round of the OHL playoffs while Guelph will battle the Saginaw Spirit. While the Spitfires start their first round tonight, the Storm kick off their best-of-seven series tomorrow.
Beck is not only fourth in Guelph franchise history with 267 points but he nearly made the Predators roster out of training camp this year. He very well could be the scoring touch Nashville has been looking for. Ellis, a power play quarterback, must prove that size won't be an issue at the next level as he stands only 5'10", 170 lbs. Latta has impressed at the past two camps but has yet to get serious consideration for an NHL gig this early in his young career.
The future looks very bright in Music City USA.