Blues beat Preds in shootout…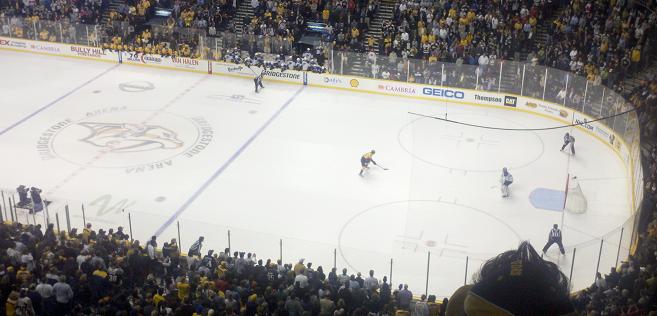 It was an opportunity for the Nashville Predators to pull within a single point of the fourth place St. Louis Blues.
Instead, they finished the night four points back.
With 16,828 looking on, the two Central Division rivals needed a shootout to decide who was better on this night. St. Louis eventually came out on top, 3-2, in the skills competition.
Pekka Rinne, as he often does, kept his team in it early. He made 12 stops in the first period alone en route to the 22 save shootout loss. Rinne's record fell to 33-13-7 on the year and still needs one more victory to post a new career high.
The visitors were the first to strike when Chris Stewart redirected a centering pass over the goal line with his skate. The goal was allowed to stand and the Blues took the lead 1-0 as a result.
After a miserable opening 20 minutes, Nashville finally pulled even in the second. Brandon Yip broke in 2-on-1 with Roman Josi and the two connected for Josi's third goal of the season. Yip fed a beautiful cross-ice pass to the rookie blueliner who one-timed it past Jaroslav Halak for the score.
Moments later, Colin Wilson potted his 13th of the season on a nice backhand shot that he was able to slide through Halak's legs. Jordin Tootoo and Nick Spaling fought hard along the boards behind Halak and Wilson was able to collect it and score to put his team up by one.
St. Louis would tie it late in the second on Vladimir Sobotka's fourth goal of the campaign and, after scoreless third period and overtime sessions, TJ Oshie and Andy McDonald beat Rinne to seal the deal in the shootout.
"We had a shaky first period and then we played some good hockey at the end of the game," defenseman Hal Gill said. "It's a fine line between winning and losing."
The bad news is the Preds let the Blues open up a four point lead on them when they could have won in regulation and pulled within a single point. The good news is they at least got a point.
"It's tough," Gill said. "It's a game that we fought hard in, we've just got to be a little sharper in the beginning."
Nashville will try and right the ship and get back on the winning track when they take on the San Jose Sharks on Saturday night.
Puck drops at 7:00pm Central per usual at Bridgestone Arena.
—
PHOTO CREDIT: Jeremy K. Gover // section303.com