Bobby Ryan gets a two-game suspension for stomping Blum…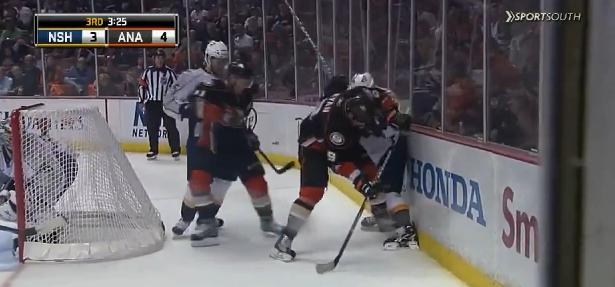 In last night's Game 2 match-up between the Anaheim Ducks and Nashville Predators, Ducks superstar Bobby Ryan used his skate as a weapon on rookie Jon Blum's foot.
Video of the play is below.
Prominant hockey personalities and well-respected media members have come out and voiced their opinion on the skate blade incident. Former NHLer and current ESPN and TSN analyst Matthew Barnaby stated that he'd be "shocked" if Ryan doesn't featch two games. TSN's Bob McKenzie said he believes a fine or suspension was upcoming. Even Toronto Sun columnist Steve Simmons said Ryan deserves two to four games for the act.
Well, this afternoon the National Hockey League reviewed the play and held a disciplinary hearing with Ryan and the Ducks and the verdict is in. Ryan was issued a two game suspension for the incident.
The Predators have no choice but to capitalize on this opportunity. Nashville is at home, the building will be rocking and the Ducks will now be without one of their top players for both Game 3 and 4. So, for two games that are not literally life-or-death, these are must-wins for Nashville. Period.
Puck drops at 5:00pm Central on Sunday.
—
PHOTO CREDIT: screen cap of FS-Tennessee's broadcast last night. All rights belong to them.