Barry Trotz has coached his final game for Preds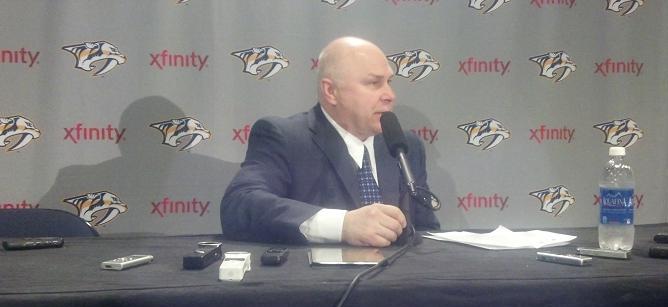 In the 97-year history of the National Hockey League, only 12 others have coached more games than he has. And, as most speculated, Sunday was his last as the head coach of the Nashville Predators.
According to Josh Cooper of The Tennessean, the end of an era is here as Barry Trotz will not be back next season. A press conference is expected later today. He's the only head coach the franchise has ever known and his resume spans the dark expansion years (1998-2003) and the promising Stanley Cup contending years (2007 and 2012).
His contract expires June 30 and the writing was on the wall. For the first time in quite possibly the entire 23-year history of their working relationship, Trotz and General Manager David Poile haven't seen eye-to-eye as of late. Last summer, Poile signed former 20-goal scorer and Stanley Cup champion Viktor Stalberg to help with the team's offensive woes. Before he had even played a game, Trotz scratched him and then relegated him to the fourth line. At the trade deadline last season, Poile acquired Swedish phenom Filip Forsberg from the Washington Capitals but Trotz rarely played him early this year and the organization (right or wrong) was forced to send him to Milwaukee to get top minutes. And, most recently, Poile traded away defensive stalwart Kevin Klein in exchange for young, two-way defenseman Michael Del Zotto. Within 20 games, Trotz warranted him a healthy scratch and even borderline embarrassed him by using him for just 3:13 on March 21 against the Flames in Calgary.
Of course, philosophical differences are nothing new between coaches and the front office. Poile and Trotz, however, always seemed to be in lock step with one another so when multiple "riffs" are observed in such a short amount of time, people take notice. Not to mention the Predators failed to make the playoffs in back-to-back years for the first time since 2001-02 and 2002-03. That's never good in a non-traditional market, especially when those back-to-back years came fresh off a lockout that gave the league a public relations black eye.
All that said, Trotz boasts impressive credentials. He's 13th on the NHL's all-time coaching list (1,196 games) and, more importantly, he's 13th on the all-time wins list (557). He was nominated for the Jack Adams Award as coach of the year twice (2010, 2011) and was named The Sporting News' NHL Coach of the Year in 2007. Off the ice, he's been a pillar of the community thanks to all of his work with Best Buddies, the Peterson Foundation for Parkinsons and various other charitable organizations. He rarely turned down an interview request and was always willing to talk after a big win or tough loss. He'll be one of — if not the — most sought after coaches on the open market this summer.
One major complaint from his critics is that he underachieved. They use comparisons like "look what Chicago has done in such a short amount of time!" That logic fails to understand that you can't accurately judge a coach by comparing him to more-established franchises that have had decades more tradition. In other words, comparing Trotz and the job he's done to, say, the Detroit Red Wings isn't exactly fair. Sure, the Wings have won three Stanley Cups since the Preds were awarded a franchise in 1997 but they also had a 64 season head start and legends like Steve Yzerman, Nicklas Lidstrom, and Sergei Federov who they'd drafted years prior.
So, as far as the recent expansion franchises go, Trotz has actually set the standard.
Nashville (1998): nine winning seasons, seven trips to the playoffs, two times out of the first round.
Atlanta/Winnipeg (1999): six winning seasons, one trip to the playoffs, zero playoff wins.
Minnesota (2000): 10 winning seasons, five trips to the playoffs, one time out of the first round.
Columbus (2000): three winning seasons, two trips to the playoffs, zero playoff wins.
So who does Poile turn to now? You can't replace a coach with just anybody. If the goal is to always improve upon the last guy, there aren't many candidates out there. Let's face it, Scotty Bowman isn't leaving his Hockey Ops job with the Blackhawks so he can travel nine months out of the year and turn the Predators into a contender.
There are some names that would seem to have an inside track, however.
If they want to keep the search in-house, assistant coach Phil Housley seems like a great choice. After playing 21 years in the NHL as a defenseman, he became the head coach of Stillwater High School in Minnesota, leading the Ponies program for nine seasons before coming to Music City last summer. In December of 2012, he was the head coach of Team USA's World Juniors club that featured Preds defenseman Seth Jones. The two won gold together over in Ufa, Russia and were reunited when Nashville drafted Jones fourth overall last June. Housley was a seven-time NHL All-Star and a Norris Trophy runner-up, is the second highest scoring American-born player in the history of the NHL and is a member of both the Buffalo Sabres Hall of Fame and the United States Hockey Hall of Fame.
Is the Predators organization willing to replace a first-time NHL head coach with another first-time NHL head coach? That's the question. Housley has an impeccable resume as a player and has done great things in his short time in Nashville. The power play went from 17th last year to 12th this year and young blueliners Roman Josi, Ryan Ellis (a player straight out of the Housley mold) and Mattias Ekholm have all taken giant strides in their development and poise this year. Also, the abrupt subtraction of Peter Horachek and the immediate addition of Housley last summer makes one wonder if this wasn't the plan all along. Give him a year of seasoning behind the established regime and then turn him loose the following season.
If Poile wants to look outside the organization, Peter Laviolette is available. Sure, he's never stayed in one place more than four and a half years but he's led two different teams to the Stanley Cup Finals, including the Carolina Hurricanes who won the Cup in just his second season in Raleigh. He also led the Philadelphia Flyers to the Finals in 2010 but lost to the Chicago Blackhawks in six games. The following year, his Flyers couldn't make it back to the big show but did hang an Atlantic Division Championship banner in the rafters before losing in the second round to the eventual champs, the Boston Bruins.
And don't underestimate the relationship angle. Despite being out of an NHL job at the time of the event, Laviolette was an assistant coach for Team USA during the 2014 Olympics in Sochi. Poile was the GM of that club so the two know each other and have worked together.
Laviolette may be the best choice for now. He would bring experience, six 40-win seasons, two division championships and a Stanley Cup ring with him. Besides, the make-up of that Carolina roster that won it all in 2006 looks eerily similar to the Nashville roster in 2014. Emerging young talent, veterans throughout the depth chart and a goaltender who can steal a game at any time. While there's no getting around the most glaring omission (a 20-year old, 100-point producer in Eric Staal), Laviolette would have pieces to work with here. Craig Smith had a career season, Colin Wilson was realizing his potential before getting hurt last year and they have promising prospects in the pipeline like Forsberg, Calle Jarnkrok and Brendan Leipsic. Perhaps Laviolette could get a combination of those five to approach Staal's 2005-06 campaign.
Either way, whether you like him or not, Trotz has provided this team, this city and this market with a competitive product for 15 years. And not just any 15 years. The first 15 years.
Without him, Canada very well could have acquired two expansion teams from the south.
---
PHOTO CREDIT: Jeremy K. Gover // section303.com