Breaking down the Rick Nash to Nashville situation…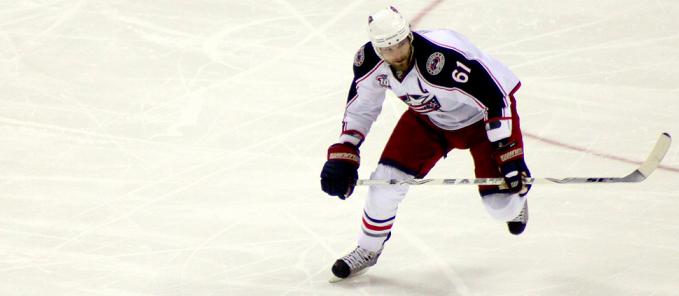 First it was on NHL Home Ice. Then Nashville Predators beat writer David Boclair confirmed it. Preds General Manager David Poile had a standing offer to the Columbus Blue Jackets for superstar captain Rick Nash.
The Brampton, Ontario native is in the prime of his career at 27 years old and is locked up through the 2017-18 season. His price is a tad steep at $7.8 million (cap hit) per year but that's the price of elite talent. Nash is a proven 65-70 point and 35-40 goal guy on terrible Columbus teams and he should be extremely motivated on a club with Stanley Cup aspirations as he's only been to the post season once in his nine-year NHL career and that series lasted all of four games.
So what's the hold up? You know, other than Nash's no trade clause?
Actually, let's tackle that first. Nash has given a list of five teams to Columbus GM Scott Howson. Nobody seems to know who's on the list except for the New York Rangers and Toronto Maple Leafs. The Los Angeles Kings were believed to be on it but, after the Jeff Carter deal this past Thursday, we're ruling them out. That leaves two mystery teams and then everyone else.
We also know that Nash's camp wants to be dealt by Monday's trade deadline. And, in all honesty, the Blue Jackets should want that as well. After all, why would you want your captain playing 20 more games as a lame duck? He knows he's being moved eventually and, after Monday, he'd just be going through the motions for the remainder of the season with absolutely nothing to play for.
Awkward.
So we have both parties motivated. This is a good thing as far as the Predators are concerned. Seeing as how there's two mystery teams, Nashville could very well be on the list but it's unlikely so, for the sake of argument, let's lean the way of not. If the Preds aren't one of the five teams, Poile would need to put together a pretty ridiculous package (compared to the other clubs) in order to get Howson to bite.
The rumored standing offer is Colin Wilson, Ryan Ellis, Teemu Laakso and a first round pick in this year's draft. You don't really want to part with Wilson considering he's turned his attitude and young career around and is on pace for career highs. However, when you consider it would be Rick Nash taking his spot in the lineup, it's a little easier to swallow. Laakso is a prospect that tried to stick with the big club but was passed up by more dynamic defensemen so losing him hardly has an impact. A first round pick is a necessary evil to acquire a player of this magnitude so that's acceptable as well. The addition of Ellis is what stings the most but it takes something of value to get something of value so, at the end of the day, fine.
Plus, if the addition of Nash prompts superstar blueliners Shea Weber (RFA on July 1) and Ryan Suter (UFA on July 1) to re-sign, can you really argue?
All that being said, there's still the issue of why Columbus would even think to deal him within the division. Why would you deal a guy to a team so he can destroy you six times a year? The Blue Jackets are reportedly requiring that 2008 first round pick Jake Gardiner be included in any deal with Toronto. Leafs GM Brian Burke is calling Gardiner "untouchable." As far as the Rangers go, Columbus is asking for star defenseman Michael Del Zotto or blueline prospect Ryan McDonagh as well as up-and-coming star forward Derek Stepan. GM Glen Sather says "no way."
Enter Poile.
The Predators are willing to give up a Stepan-type (Wilson), a young blueliner with the same offensive upside (if not moreso) as Del Zotto and McDonagh (Ellis), a little insurance in Laakso and a first round draft choice for the same player that those other GM's are saying no to.
If you're Columbus, this is the best deal on the table right now by far. This is when the motivated parties come together and do what's best for everyone involved and make the deal.
Howson goes to Nash's camp and says "Look, you want out by Monday. This is your chance. Nashville has offered far and away the best deal. Take it or stick around until the summer." At that point, Nash and his agent have a decision to make. Accept the trade to Music City where Vezina Trophy finalist Pekka Rinne and future Norris Trophy winners Weber and Suter await or stay in the Buckeye State with the likes of Steve Mason between the pipes and an overpaid mediocre defense corps.
Pretty easy choice, no?
With Nash on the Predators roster, it makes Nashville a Stanley Cup favorite. Not a contender. A favorite.
—
SPECIAL THANKS to Ryan Porth of smashville247.net and Amanda DiPaolo of insidesmashville.com for their help with this post.
PHOTO CREDIT: Dylan Moody // Flickr (used with permission)