CALL TO ACTION: Welcome the team home this afternoon!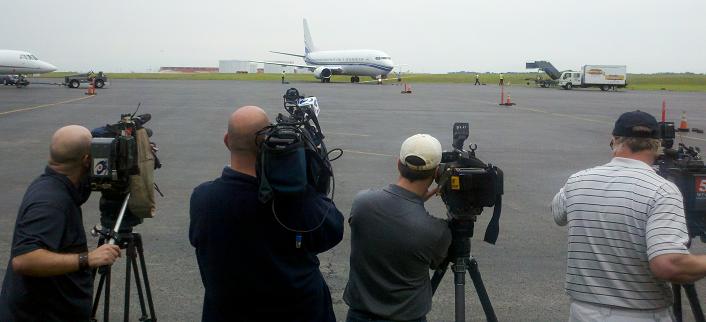 If you come out to welcome the Nashville Predators home after their impressive Game 5 victory over the Vancouver Canucks, not only will you be on TV tonight, but you could win a pair of tickets to Monday night's Game 6 at Bridgestone Arena!
Just ask Krista Pate. She knows this to be true. (She was last week's winner).
After forcing another home game with their victory on Saturday night, the Predators deserve a homecoming welcome even greater than last time! We had roughly 200 fans welcome the team home last Sunday afternoon and we are hoping for an even greater turnout this afternoon!
You can greet the team with other Preds fans at Signature Aviation located at 801 Hangar Lane in Nashville. The flight should get in around 4:30pm so we're asking fans to get there around 4:00pm. Just head toward the Nashville airport off Donelson Pike and turn onto Hanger Lane.
There are a few things to remember. We need to stay outside the "terminal" this time. I know we waited inside last Sunday and then moved outside when the team arrived but, this time, Signature has asked that we wait outside and form our lines there.
Also, DO NOT ask for autographs. This is not the forum for that and, quite frankly, not the point of the event. News crews will be there to capture the gesture and we want to keep that as the main focus.
So grab your Preds gear and homemade signs (*hint*) and head on out to Signature Aviation at 4:00pm and welcome home your Nashville Predators!
—
PHOTO CREDIT: Jeremy K. Gover // section303.com