Predators aren't ready for summer just yet, force Game 6…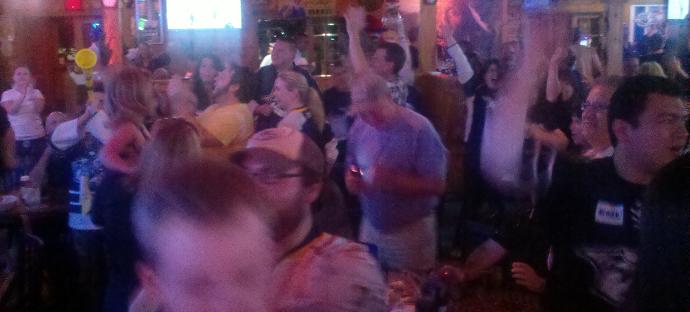 They already made history with their first second round appearance in franchise history so what more could they possibly want?
How about the first third round appearance in franchise history?
The Nashville Predators headed into British Columbia down 3-1 in the best of seven series with the top-seeded and President's Trophy winning Vancouver Canucks. They could've rolled over and just accepted that their season was over. Instead, they put together their most complete effort of the Western Conference Semifinals and forced at least a Game 6 back in their home building with a 4-3 win on Saturday night.
The Predators got two goals from Joel Ward and two from David Legwand in the victory.
Goaltender Pekka Rinne was, once again, outstanding. He made 31 saves and improved to 6-5 in this year's postseason. The Vezina Trophy candidate hasn't allowed more than three goals in a game since April 20.
Rinne's counterpart, Roberto Luongo, stopped just 19 Predators shots on the night, good for putrid .826 save percentage.
It was Nashville who would draw first blood. After Sergei Kostitsyn took a terrible holding-the-stick penalty in the attacking zone, Legwand broke in shorthanded and put it up and over Luongo's blocker to take the early lead.
As a side note, this shorty was both a good thing and a bad thing for Nashville. It meant they scored first but it just so happens that, when a team scores a shorthanded goal in this series, that team loses the game. So the Preds would wait to see if they were going to change that trend or prove the pattern correct.
The Canucks would answer only seconds after Kostitsyn's penalty expired, however. After a mad scramble in the Nashville zone, Raffi Torres found the rebound in the slot and one-timed it into an empty net. Rinne dove across, a la his Game 1 stop on Kevin Bieksa, trying to make the save but came up empty-handed.
Late in the opening frame, Vancouver took the lead on — what else — a Ryan Kesler goal. On a Vancouver rush, Preds defenseman Jon Blum whiffed while trying to clear the puck off of Mason Raymond's stick and then again deeper in the zone. Raymond finally coralled it clean and ged it across to Kesler for the go-ahead goal.
Early in the second period, the Preds tied it up on a fluke bounce. Legwand, behind Luongo, flipped the puck up and over the net and it caromed off of Alex Edler's chest and in to make it 2-2.
The Canucks may have had all the momentum going into the locker room but the Predators wrestled it right back when Mike Fisher fed a cross-ice pass to Ward who one-timed it past Luongo to take the 3-2 lead.
Ward then made it 4-2, Nashville moments later when Jordin Tootoo made a nice pass and Ward banged it home for the first legitimate (read: non-empty netter) of the series.
Kesler tied the game late with a wrist shot from the point with 3:46 on the clock but it wasn't enough as the Preds would hang on to win.
The Preds will try to do something they haven't been able to do since disposing of Anaheim and that's use their home town fans to their benefit. With tonight's victory, Nashville is down 3-2 in the series and will need to win at Bridgestone Arena on Monday night in order to force a Game 7 back in Vancouver on Wednesday night.
Puck drops at 7:00pm Central. (Thank God I get to write that.)
LEFTOVER THOUGHTS:
* Predators center Jerred Smithson (upper-body injury) didn't make the trip and, thus, didn't play on Saturday night. He sustained a broken nose at the hands (er, elbow) of Ryan Kesler in Game 4.
* History continues to be made in Music City. This was the first elimination game the Predators have won in franchise history.
* The Preds blocked 30 shots tonight.
* Are we going to hear that regular season leading scorer Kostitsyn was hurt? He hasn't found the scoresheet since Game 4 of the Anaheim series.
* On a related note, one of last year's leading scorers Patric Hornqvist hasn't tallied even a point since Game 4 of the Anaheim series either.
* The ironic thing about Hornqvist's box score absence? He's fifth in the NHL this postseason in shots (42).
* Just as Teemu Selanne was in the first round, Kesler has been the Preds killer in the second. He has nine points in the last four games.
* Kesler's done more than create offense though. He was the one who drew the controversial penalty on Shea Weber in overtime of Game 3 and he knocked Smithson out of the series with an un-penalized elbow in the first period of Game 4.
* As captain Shea Weber goes, the Predators go. In the regular season, Nashville was 30-6-4 when Weber recorded at least a point. They were even a more amazing 13-2-1 when he scored a goal. He's been held without a point in this second round and the Predators are down 3-2 in the series.
* With his three point night, Ward further distanced himself from the pack as he extended his franchise post season scoring record to 12 points. His seven goals are also tied for first in the NHL during the playoffs. (That's right. Joel Ward is tied for first. In the league. In goal scoring.) Is he the new Claude Lemieux?
* Kevin Klein and Ward were an impressive plus-3 tonight, tops on Nashville.
* Cody Franson and JP Dumont were a team-low minus-2.
* When the section303.com Watch Party is held at Brewhouse South, Nashville is 3-0 in these playoffs. So, if the Preds can win Game 6, we'll see you there for Game 7.
* Special thanks to Joe Dubin and News 2 who came down and did some features on the section303.com Watch Party tonight. Make sure you watch Sunday night's Sports Xtra to see all the action!
THE THREE STARS OF THE GAME:
1) Joel Ward (NSH)
2) Ryan Kesler (VAN)
3) David Legwand (NSH)
We'd like to take a second to applaud the enemy for something. This is going above and beyond the call of duty and it was absolutely hilarious. Well done, Green Men. Well done.

—
HEADLINE PHOTO CREDIT: Jeremy K. Gover // section303.com