Carter Hutton attributes Third Star of the Week honors to teammates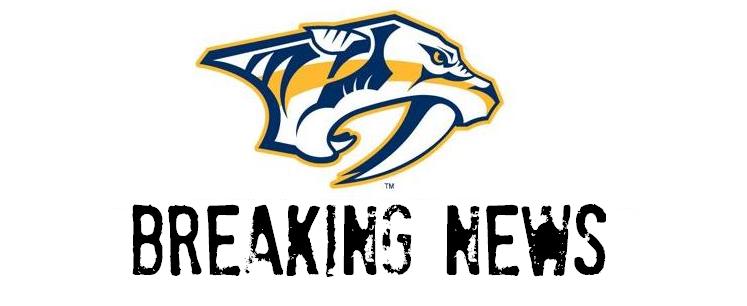 On the eve of playing his former team, Nashville Predators goaltender Carter Hutton was named the Third Star of the Week by the National Hockey League.
"He's working on his craft and, therefore, he's getting results," Head Coach Barry Trotz said. "Carter's going to be up for every game."
The 27-year old rookie has started Nashville's last three games and posted a 3-0-0 record with a stellar .960 save percentage. But, more than stats, he's allowed his team to right the ship.
Fellow rookie, Marek Mazanec, had begun to falter. He started every game between November 15 and December 7 but, after going 5-2-0 with two shutouts in the first seven contests, he went 0-4-1 and allowed 16 goals in the last five.
"I'm so proud of Maz," Hutton said. "He played really great. He came up here at a time where I didn't think I was playing as well as I could have been. I thought a couple goals here and there I'd like to have back and it was a time where maybe the team wasn't as confident and didn't really have that spark. But he came in and gave it to us."
But now it's Hutton's turn and he has delivered. He's played lights out hockey between the pipes including a 36-save performance against the San Jose Sharks on Saturday in which he had 20 saves in the third period alone. He'll try to keep the stellar play going when he plays his former club, the Chicago Blackhawks, for the first time on Tuesday night.
"I feel like we've put the work in so the nerves are gone," Hutton said. "We're expecting a tough game. They lost a couple games ago and then they bounced back to beat LA who's been playing pretty stingy defense and they were able to put up three against them in the first period."
For a guy with just one NHL game under his belt coming into the season, accolades from the league has to feel pretty good.
"It's obviously great to get a little piece of achievement but, at the same time, it's a team award," Hutton said. "We played pretty solid defense, blocked key shots and were big on penalty kills. So it's something that's great but, at the same time, the biggest thing is we got the three wins and we're looking forward to moving forward here and keep winning hockey games."
They may have a record that's two games over .500 but, in the Western Conference, that's only good enough for 11th place. So, needless to say, Nashville is going to have to keep winning if they want to start catching the teams ahead of them.
The official press release is below.
***
NEW YORK (Dec. 16, 2013) – Washington Capitals right wing Alex Ovechkin, Los Angeles Kings goaltender Martin Jones and Nashville Predators goaltender Carter Hutton have been named the NHL's "Three Stars" for the week ending Dec. 15.
FIRST STAR – ALEX OVECHKIN, RW, WASHINGTON CAPITALS
Ovechkin led the NHL with five goals and tied for third with six points as the Capitals (18-12-3, 39 points) earned five out of a possible six points to maintain second place in the Metropolitan Division. He began the week by recording his third career four-goal game (and 13th career hat trick), including the tying marker with 32.4 seconds remaining in regulation, in a 6-5 shootout victory over the Tampa Bay Lightning Dec. 10.
After being held off the scoresheet in a 3-2 shootout loss to the Florida Panthers Dec. 13, Ovechkin posted 1-1—2, including the tying goal with 47.9 seconds left in the third period, in a 5-4 shootout win over the Philadelphia Flyers Dec. 15, the Capitals' second three-goal comeback of the week. According to the Elias Sports Bureau, Ovechkin has seven game-tying goals in the final minute of regulation during his NHL career; no other player has scored more than four such goals since he entered the League in October 2005. The 28-year-old Moscow native leads the NHL with 27 goals in 31 games this season and is tied for fifth with 37 points.
SECOND STAR – MARTIN JONES, G, LOS ANGELES KINGS
ones posted a 3-0-0 record with a 1.00 goals-against average, .972 save percentage and one shutout to help the Kings (22-8-4, 48 points) move into second place in the Pacific Division and third in the League standings. He made 31 saves for his second consecutive shutout in a 6-0 victory over the Montreal Canadiens Dec. 10. Jones then extended his shutout streak to 177:16 before allowing a second-period goal in a 3-1 triumph over the Toronto Maple Leafs Dec. 11. He capped the week by recording 37 saves in a 5-2 win over the Ottawa Senators Dec. 14, the second consecutive game in which he faced 39 shots.
The 23-year-old North Vancouver, B.C., native made his League debut Dec. 3 and is 5-0-0 with a 0.99 goals-against average, .967 save percentage and two shutouts in his first five NHL games. According to the Elias Sports Bureau, he is the first goaltender in League history to allow an average of less than one goal per game while winning each of his first five career appearances.
THIRD STAR – CARTER HUTTON, G, NASHVILLE PREDATORS
Hutton compiled a 3-0-0 record with a 1.33 goals-against average and .960 save percentage to lead the Predators (16-14-3, 35 points) to their second three-game winning streak of the season (also Nov. 16-21). He allowed one goal in both a 4-1 triumph over the New York Rangers Dec. 10 (28 saves) and a 3-1 victory over the Dallas Stars Dec. 12 (33 saves).
Hutton then posted 36 saves, his second-highest total of the season, in a 3-2 win over the San Jose Sharks Dec. 14. The 27-year-old Thunder Bay, Ont., native has appeared in 14 games this season, posting a 7-3-1 record with a 2.76 goals-against average and .913 save percentage.