Carter Hutton will be Pekka Rinne's back-up in 2013-14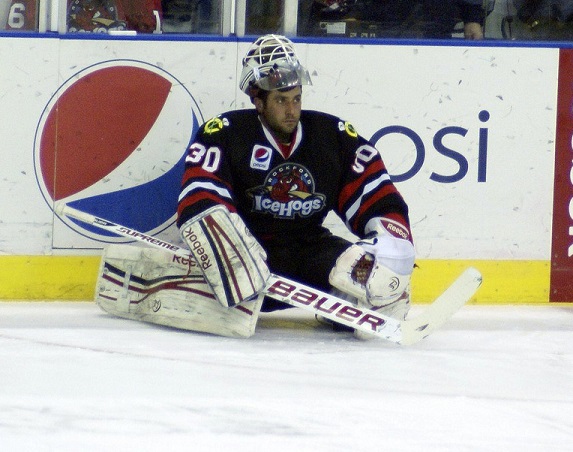 According to Kevin Wilson of their media relations staff (and first reported by Kevin Woodley of InGoal Magazine), the Nashville Predators have signed goaltender Carter Hutton to back-up two-time Vezina Trophy finalist Pekka Rinne next season.
Hutton, 27, has spent the past four seasons bouncing around AHL teams and even had a stint with the Toledo Walleye of the ECHL. His one game of NHL experience came on the final day of the season last year for the Chicago Blackhawks. He took the loss but allowed three goals and made 25 saves.
This is a rather interesting move by the Predators who stated they wanted to find a back-up goalie to take a lot of the load off of Rinne. A non-proven keeper at the NHL level wouldn't seem to fit the bill. However, as Milwaukee Admirals blogger Ryan Miller points out, this could easily indicate that Nashville thinks 2011 second round pick Magnus Hellberg is a couple months away from being ready.
If they go out and sign veteran back-up like Anton Khudobin, they're telling Hellberg that he's at least one year away. But with Hutton signing a two-way, one-year deal, it allows the Preds some flexibility when it comes to their own prospect.
What's interesting is that Nashville, via Wilson's tweet, has already anointed Hutton as the NHL back-up.
The official press release is below.
***
Nashville, Tenn. (July 5, 2013) – Nashville Predators President of Hockey Operations/General Manager David Poile announced today that the club has signed goaltender Carter Hutton to a one-year, two-way contract worth $550,000 at the NHL level and $100,000 at the AHL level.
Hutton, 27 (12/19/85), appeared in one game for the 2013 Stanley Cup champion Chicago Blackhawks and 51 games for the AHL's Rockford IceHogs in 2012-13, posting a 26-22-1 record, a 2.72 goals-against average, a .908 save percentage and a pair of shutouts. In 2011-12, the Thunder Bay, Ont., native was named Rockford's most valuable player after tying a team record with .917 save percentage and setting a club mark with a 2.35 goals-against average. Since turning pro at the completion of his collegiate career in 2009-10, the 6-1, 195-pound netminder has appeared in 120 games for Adirondack, Worcester and Rockford, posting a 60-44-7 record, a .902 save percentage, 2.64 goals-against average and seven shutouts.
Undrafted, Hutton starred at UMass-Lowell from 2006-10, posting a 32-41-10 record, a 2.33 goals-against average, a .904 save percentage and 10 shutouts in 85 games. He was named a Hockey East Second-Team All-Star in 2009-10 and Bauer Goaltender Champion after ranking third among NCAA goaltenders in save percentage (.928) and fourth goals-against average (2.04).
Hutton is on Twitter @CarterHutton.
—
PHOTO CREDIT: "The Mel" // flickr (permission pending)