Coincidental or not, Preds struggle without Filip Forsberg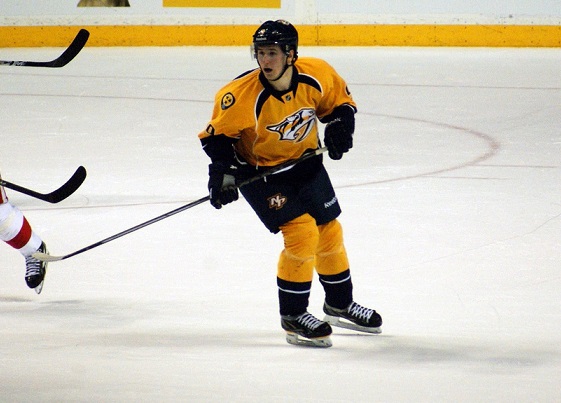 He may share a team-worst plus/minus rating, he may average less than 12 minutes of ice time a game and he may have only one point at even strength but, somehow, Filip Forsberg positively impacts the Nashville Predators.
When the 19-year old Swedish phenom is in the lineup, the Preds are 8-2-1 this season. Without him? A putrid 0-5-1.
Forsberg has missed time due to injury, has been a healthy scratch and, more recently, has been in the minors to regain his confidence and log serious ice time. Regardless of the reason, when he doesn't play, Nashville struggles.
The Ostervala, Sweden native has five points in 11 games, four of which came on the power play but isn't playing top line minutes. In an effort to get him more ice time, the Predators assigned him to their AHL-affiliate, the Milwaukee Admirals, this past Thursday. All he's done since donning an Ads sweater is post five points in three games and register 13 shots on goal. Considering he has just 20 shots in 11 NHL games this season, it sounds like he's taking this opportunity seriously.
Consider the compliment below by Dan Lavender of Admirals Round Table.
The line of Moser-Watson-Forsberg in this game has been brilliant for the Ads.

— Admirals Roundtable (@adsroundtable) November 11, 2013
The correlation between Nashville's success and Forsberg's inclusion in the lineup is probably coincidental. But the Predators can't afford to take any chances at this point. The franchise-long 17-day road trip is getting away from them and they need a big win against the New York Islanders on Tuesday in order to guarantee at least a .500 record. Furthermore, goaltender Carter Hutton has a miserable .841 save percentage and a beach ball sized 4.78 goals-against average on the trip so he needs a win to get his confidence back.
Obviously one man doesn't make a whole team but, let's be honest, it makes you think.
—
PHOTO CREDIT: Sarah Fuqua (used with permission)