Could the Preds trade Shea Weber next summer?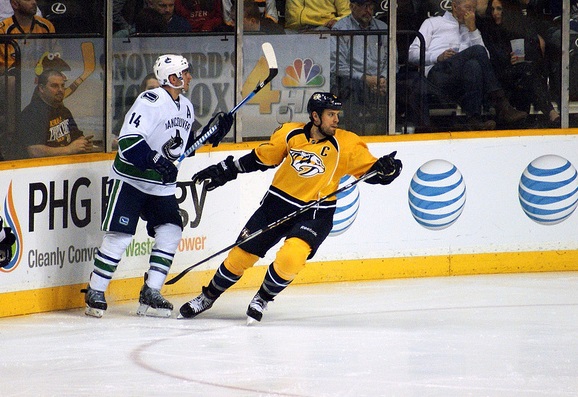 What's the one thing the Nashville Predators have always needed? A dynamic scoring forward. And how have Stanley Cup winning teams like the Chicago Blackhawks and Pittsburgh Penguins found theirs? At the top of the NHL Draft.
"Sometimes you have to be really bad in order to get them," Predators Assistant General Manager Paul Fenton said. "We don't want to do that."
Speaking of "really bad," the Blackhawks brought Patrick Kane (#1 overall, 2007) and Jonathan Toews (#3, 2006) into the fold thanks to several terrible years. Likewise, the Penguins snagged two of the best players in the world in Evgeni Malkin (#2, 2004) and Sidney Crosby (#1, 2005) after losing 41, 47 and 48 games in back-to-back-to-back seasons. Since dropping the puck at 501 Broadway back in 1998, Nashville has never been bad enough to snag a top three draft pick and, for obvious reasons, they'd like to keep it that way.
The Predators are known for world-class goaltending and solid defense. With Pekka Rinne between the pipes for at least another five years and a blueline that boasts names like Shea Weber, Roman Josi, Seth Jones, Ryan Ellis, Michael Del Zotto and Mattias Ekholm, the back end seems to be pretty well solidified for years to come as well.
So that leaves offense. Craig Smith emerged as a weapon last year and Colin Wilson has shown brief glimpses throughout his five-year career but, right now, there aren't any legitimate elite forwards on the roster. So how does Nashville go about acquiring one?
"There are different ways to do it," Fenton explained. "There are ways to get an elite offensive guy through free agency, through a trade at the trade deadline, there's all sorts of different ways to do it. But we have to decide when, where and what the assets are that we can afford to give up — or afford to draft — to get those certain guys."
Free agency this summer features just a few big names.
"If we narrow it down to forwards, I don't think any hockey guy could name five high-end free agents," Preds GM David Poile told 102.5 The Game. "So, five into 30 teams, that doesn't give you much of a chance."
For sake of argument, however, here's the three "top prizes" available to the highest bidder on July 1. Colorado's Paul Stastny is a top line center who has posted 70+ points three times in his career and showed a ton of chemistry with Smith at the 2013 World Championships. Montreal's Thomas Vanek is a two-time 40-goal scorer but saw time on the fourth line while the Canadiens played in the Eastern Conference Finals. Minnesota's Matt Moulson has scored 30+ goals three different times but hasn't really done anything of note since leaving Long Island.
Are any of the three worth the big bucks required to beat out 29 other bids? More importantly, with all the changes going on in the organization right now, would ownership really be willing to cut a big check?
"I'm confident that they would on the right player," Poile said. "But I'm not confident that that player is available."
Looks like we can rule out this year's free agency class. Which brings us to the draft.
In less than a month, the Predators will be picking 11th in a draft that features just a handful of high-end prospects in forwards Leon Draisaitl, Sam Bennett, Sam Reinhart and defenseman Aaron Ekblad. While all good players, none of them have the buzz that next year's cream of the crop does.
The 2015 Draft will feature two of the most anticipated forwards since 2005 when Crosby and Bobby Ryan headlined the annual event. Connor McDavid of the Erie Otters has been tabbed as 2015's first overall pick since 2012. Not only did he break into the OHL as a 15-year old but he started a 15-game scoring streak in just his second ever game. He finished the season – again, as a 15/16 year old – at a point-per-game clip and followed that up with 99 points in 56 games this year.
"He's a franchise player," Dallas Stars GM Jim Nill told NHL.com back in November. "Somebody is going to draft him and he's going to be the cornerstone of the franchise for 15, 20 years. Those players only come along so often."
Joining McDavid in the "can't miss" category is American center Jack Eichel. This past season, the Chelmsford, Massachusetts native was part of the under-18 United States Development Team posting 87 points in 53 games. He also participated in the World Junior Championships for Team USA, finishing with five points in five games. He's committed to Boston University next season and will have one heckuva spotlight on him as a freshman.
"Even if you were an alien from a spaceship who had never seen hockey, and you watched this kid, you would say, 'Good Lord, that's a talented athlete,'" Brian Burke, Calgary Flames President of Hockey Operations, told USA Today.
In short, there are two "can't miss" prospects there for the taking if your team is among the worst in the league next season. But the Predators have only been that bad once in their 15-season history. In the lockout-shortened year of 2012-13, they finished with the fourth worst record and, as a result, chose fourth. There were three stud forwards and one stud defenseman that headlined the draft class. The Colorado Avalanche, Florida Panthers and Tampa Bay Lightning each took one of the forwards, leaving Jones – the top rated player depending on who you talk to – there for the Preds.
"Last year, when Seth Jones came to us, should we have said we weren't going to take a defenseman who's going to be a franchise defenseman?" Fenton said. "This guy is going to be a 15-year absolute all-star who will win the Norris Trophy just like Weber will one day."
If that's true, that would mean Nashville will have two franchise blueliners. And two franchise blueliners means assets. And assets means bargaining chips. And bargaining chips means trade possibilities.
No matter how bad you think they are, the Predators will not be the NHL's worst team next year. Therefore, short of winning the NHL Draft Lottery, they won't have a chance to grab McDavid or Eichel. But what if they traded up? No team is going to voluntarily step away from a McDavid or Eichel for the ol' "Blum, Wilson and a first" type of trade so the Preds would have to part with a significant piece.
Weber is that piece.
The three-time Norris Trophy finalist is known as the most well-rounded defenseman in the league. If he were to become available, he would command a king's ransom. A king's ransom that should include a first round pick. So, if you're Poile and the Predators, why not wait until the 2015 lottery concludes, see who has the top two choices, immediately pick up the phone?
But if they have two franchise blueliners, why not trade Jones? First off, he won't even be of drinking age next summer which means he has his entire career ahead of him. Weber, on the other hand, will be a couple months shy of 30 (which is hardly old but, in a couple years, won't be in the prime of his career anymore). Second, Jones is cheaper. Nashville was forced to sign Weber to that monster 14-year, $110 million deal in 2012 thanks to an offer sheet from the Philadelphia Flyers. Not only is he due $14 million a year in salary through 2015-16 and then $12 million through 2017-18, but he also earns a $13 million signing bonus each of the next two seasons and then $8 million the following two. If Jones continues to emerge as a franchise defenseman, the Predators could take a calculated risk and ship Weber out for that final piece to a possible Stanley Cup puzzle.
Imagine what a McDavid or Eichel could do for the Predators brand. Look what Steven Stamkos (#1, 2008) did for the Tampa Bay Lightning. Or what John Tavares (#1, 2009) did for the New York Islanders. Both were clubs who desperately needed an identity. While the Preds already have a strong identity with Rinne and Weber, they desperately need one up front and picking a superstar like McDavid or Eichel could give them just that. It could also give them jersey sales and nationally televised games and a marketable "face of the league," all of which go a long way when it comes to revenue.
Every GM will tell you that, in order to get something, you have to give up something. Nobody would actually want to trade Weber but doing so could be a necessary evil in order to get to the promised land.
All that said, hopefully the Predators can find another way to acquire that elite forward. After all, "there are different ways to do it."
---
PHOTO CREDIT: Sarah Fuqua (used with permission)