Laviolette could help veterans like Stalberg, Cullen and Fisher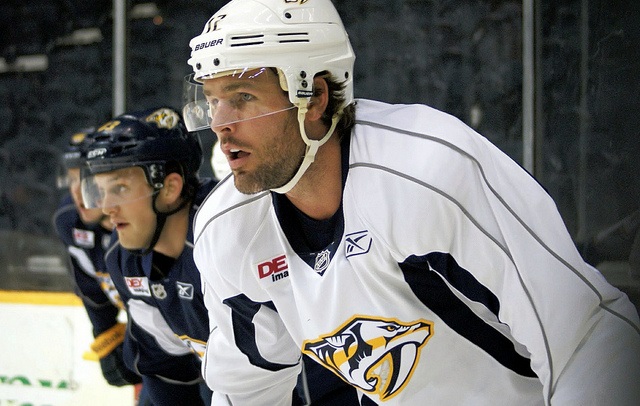 With Peter Laviolette now behind the bench, the Nashville Predators are focusing on fixing the offense.
"There were a number of players last year that, there's no denying, had an off year," General Manager David Poile told 102.5 The Game on Tuesday. "Especially three or four forwards that played way below their standards. Can a new coach make a difference? That's certainly the hope. And, if it doesn't, we'll be moving out those players."
Poile not calling out names in public is to be applauded but it doesn't take a rocket scientist to figure out who he's talking about. Viktor Stalberg was brought in to provide offense, Colin Wilson was supposed to be a top-line NHL center (or, at the least, a solid second-line center) by now and Gabriel Bourque was basically a half-a-point-per-game player in 2012 and even finished the year third in team scoring during the playoffs. None of them had a season to be proud of.
"Stalberg was a disappointing signing," Poile said. "That's all on me and our pro scouting. We had certainly hoped that, coming from a Stanley Cup team and playing behind great players like [Jonathan] Toews and [Patrick] Kane, that maybe he wasn't given quite the opportunity in Chicago. But he really didn't fit."
The former University of Vermont Catamount was a 40-point player behind that deep Blackhawks roster in 2011-12. It was believed that he could come into a group like the Preds and make an impact offensively. Instead, he didn't even break 20 points.
Of course, that's hard to do when you're playing fourth line minutes and find yourself in Barry Trotz's dog house from the start.
"Barry didn't take to him too well," Poile admitted. "He didn't perform too well, he never really played high in our lineup and he never got any power play time. Consequently, he had a poor year. Can a second chance make a difference there? We certainly hope so."
At 28 years old, Stalberg is in the prime of his career. With a new coach and a new system, he could flourish. And, of course, that's the hope. But he isn't the only forward who could thrive under Laviolette's tutelage. Wilson, for example, may have his best chance to become the top line center he was drafted to be. And, with gifted forwards such as Filip Forsberg, Calle Jarnkrok, Brendan Leipsic and Pontus Aberg coming up through the system, the future does seem bright. That said, what about the veterans?
Down the middle, Nashville is laden with aging vets like Matt Cullen (37) and Mike Fisher (33). Cullen is consistent if nothing else. Like clockwork, he provides his hockey club with roughly 40 points any given season. He's topped out at 49 points twice in his career, both while wearing a Carolina Hurricanes sweater and both while being coached by Laviolette.
"Until Peter, I had a pretty quiet career," Cullen said. "He really helped me find my offensive game. He was the first guy to put me on the point on the power play and had me playing a lot in offensive roles. I absolutely loved playing for him and, of course, we had a lot of success under him."
Fisher, on the other hand, has reached the 50-point plateau twice in his career (once with Ottawa and once with Nashville) and was a single point from it again this season. What can Laviolette do with guys on the downside of their careers?
Look no further than Rod Brind'Amour.
A 40-50 point player between 1999-2004, Brind'Amour resurrected his career when Laviolette was brought on board in Carolina. Not only did he captain the Hurricanes to the Stanley Cup in 2006 but his personal stats skyrocketed for a player in his late 30's. When he was 36, he registered his first 30-goal season in seven years. When he was 37, he hit the 82-point mark. At 38, he tallied 51 points in 59 games. At 39 — when most guys have hung up the skates — he hit the 50-point plateau again.
The common theme? Laviolette.
Again, Cullen and Fisher have never been point-per-game players so expecting them to duplicate Brind'Amour's numbers is a stretch but wouldn't the Predators gladly take a 60-point campaign from both? Forget Pekka Rinne returning to form, forget the assumed improvement of Wilson and forget the maturation of Shea Weber, Roman Josi and Seth Jones. Think of the difference that alone would make when it came to winning games. We already know Cullen and Fisher are outstanding in the locker room and in the community. What if their production on the ice was outstanding too?
"We only missed the playoffs by three points," Poile said. "That kind of rubs me the wrong way right there. That we couldn't find two more wins just to get into the playoffs."
If Laviolette is able to get Stalberg back to 40 points and get Fisher (or Cullen) to 60, there's your two more wins.
And then some.
---
PHOTO CREDIT: Sarah Fuqua (used with permission)