Coyotes get one more bounce than the Preds, take commanding lead in series…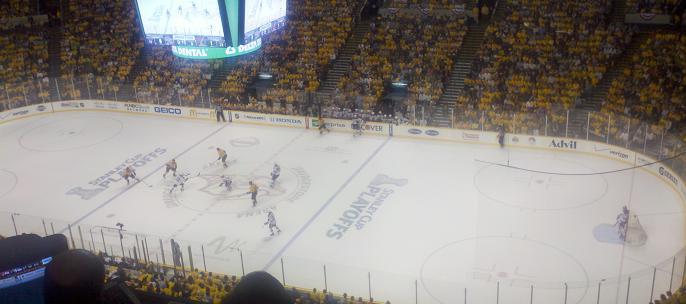 Dennis Morgan sang the anthem. Run This Town was the intro video. Fans even tried switching to rally jerseys in the middle of the third period.
All that superstitious stuff didn't matter.
In front of 17,113 at Bridgestone Arena, the Nashville Predators were downed by the Phoenix Coyotes on Friday night, 1-0. Phoenix captain Shane Doan supplied the only goal — a fluke bounce off of Roman Josi's stick — and netminder Mike Smith stopped all 25 shots he faced for the shutout.
The Coyotes now lead the best-of-seven series, 3-1.
Pekka Rinne made 23 saves but couldn't overcome the hockey gods and their master plan as the Preds now face the tall task of having to win all three remaining games if they want to advance to the Western Conference Finals for the first time in franchise history.
Nashville was without forwards Alexander Radulov and Andrei Kostitsyn for the second straight game. While the two were suspended for game three, the rationale behind holding them out of game four? Don't mess with a successful lineup. Hindsight is 20/20 but, nevertheless, their offensive prowess could have came in handy in this one.
"How do I defend it? I don't think I have to defend it," Trotz said. "Maybe they could have made a difference but we'll never know that. The guys who played played well and created lots of chances. We just had to bury one."
This game featured tons of chances but zero payoff. A snake-bit Patric Hornqvist had three glorious scoring chances, five missed shots, four shots that were blocked and zero shots on goal in the first 53:00 of the contest. There was also a puck that clearly went into the net under Smith but the goal was waved off immediately by the referee. After a review, the explanation given was "intent to blow." Finally, the Nashville power play is everything but powerful. They were 0-for-2 going into the final frame and then, when they were handed a golden opportunity when Coyotes blueliner Derek Morris cleared the puck over the glass, they couldn't convert.
To make matters worse, the Predators are now 0-for-23 on the man advantage on home ice.
"We've got to get some production from our power play," Trotz said. "If we're not scoring (otherwise), the power play's got to come up and get us a goal. We haven't had that at home yet."
The action moves back to the desert as these two teams will tangle in game five on Monday night.
Puck drops at 9:00pm Central and you can watch all the action with us at Brewhouse South in Franklin.
MY THREE STARS (as voted on with 6:28 remaining in regulation):
1) Mike Smith (PHX)
2) Shane Doan (PHX)
3) Pekka Rinne (NSH)
THE THREE STARS OF THE GAME:
1) Mike Smith (PHX)
2) Shane Doan (PHX)
3) Colin Wilson (NSH)
—
PHOTO CREDIT: Jeremy K. Gover // section303.com