Craig Smith to do the unthinkable: make the Preds out of camp…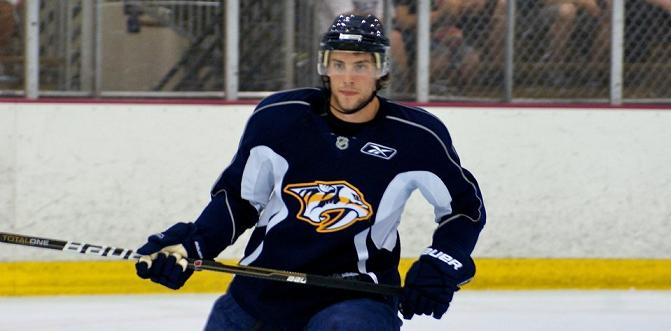 Per Head Coach Barry Trotz in his post-game press conference, former University of Wisconsin Badger Craig Smith has made the Nashville Predators out of training camp.
Given the organizational-wide mantra of "The road to Nashville goes through Milwaukee," it's a feat believed to be unattainable.
When asked if Smith will be sent down to the AHL-affiliate Milwaukee Admirals, Trotz's response was "No. No he's not." And he said it with a pleased chuckle.
To date, Colin Wilson is the only collegiate Predators draft pick to have bypassed Milwaukee en route to Nashville. Smith, therefore, will become the second to jump straight from college to the National Hockey League. It's interesting to note that both played for the United States at the World Championships the year before they turned pro.
Smith, 22, finished the pre-season with four points in six games but his fourth point was the most impressive.
On Saturday night, in a game that was rumored to make or break his chances at an opening night roster spot, he scored the game-winning goal with a shade over 10 seconds left in overtime. Well past the end of his shift, and with tired legs, he found the energy to stick-check the puck away from a Carolina Hurricane defender and then, after a pass from Wilson, fired a wrist shot that got through goaltender Brian Boucher.
While they experimented with Smith on the wing, Mike Fisher's injury leaves a spot open for him at center. When Fisher returns, some decisions will have to be made but, until then, Smith's offensive ability and work ethic have landed him a job with the big club.
An accomplishment very few Nashville draft picks can claim.
—
PHOTO CREDIT: Sarah Fuqua // special to section303.com (used with permission)