Decimated Preds out-played by Kings, lose fourth straight…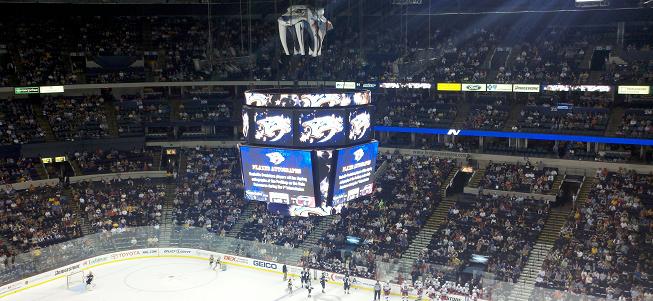 What would a healthy Nashville Predators team look like?
One would hope it would look better than this.
With key cogs Ryan Suter, Martin Erat and Matthew Lombardi out of the lineup, the Los Angeles Kings — the NHL's best team — disposed of the injury-riddled Predators 4-1 in front of 18,118 at Staples Center.
Nashville has dropped four straight and are 2-4-1 with Suter out of the lineup this season.
The game was a lot more lopsided than the 4-1 score indicated. Pekka Rinne, who started the game, was tested early on and held his ground. Which, given his rough outing on Wednesday night in Arizona, was a good thing.
Los Angeles' first and second goals were near mirror images of each other. First, Cody Franson was caught flat footed and Anze Kopitar used his elite speed to gain position and then wrist a beautiful shot up and over Rinne's glove. Then, just minutes later, Shane O'Brien was coming off the bench and couldn't get in position in time. Dustin Brown blew by him and fired a deflected puck past Rinne to put the Kings up 2-0 early.
Rinne, showing he'd blocked Wednesday night's miserable outing from of his mind, then made a spectacular save to keep his team in the game. On a power play, Drew Doughty made an all-world pass to a breaking Ryan Smyth. Rinne came up with a post-to-post larcenous save that you'll see on highlight reels for weeks to come.
In the second period the Predators appeared ready to crawl back into a game they had no business being in. They found their first true offensive pressure of the night with about five minutes gone in the frame. They generated several scoring opportunities and actually had a full two minutes of a credible offense.
But it didn't last long as, once again, a poor Nashville defense exposed it's goaltender. Smyth tallied his fourth of the season on a play that found everyone wearing a Predators sweater chasing the puck and not taking a man.
Jerret Stoll would add yet another goal before Rinne was pulled in favor of Anders Lindback. Rinne had allowed four goals on 22 shots but, make no mistake, he was more the victim of a poor defense than he was of a poor outing.
Almost immediately after Lindback entered the game, the Predators were awarded their first man advantage of the night. They had a flurry of chances including a wrist shot by Colin Wilson that was actually saved by a sprawling Doughty in the crease.
In the waining moments of the game, O'Brien finally got the Predators on the board by notching his first goal in a Nashville sweater. Sergei Kostitsyn, who was caught in a line change, tracked the puck down in the corner and got it to Cal O'Reilly near the blueline. Spinning, O'Reilly found the late man, O'Brien, who blasted one top-shelf past goaltender Jonathan Bernier to break the shutout.
It took the Predators 117:36 to solve Bernier as he had shut them out in his only previous game against them.
Nashville has no time to sulk. They face-off against the Anaheim Ducks tomorrow night at Honda Center and will look to right the ship before three full days off. Needless to say, they do not want to have 72 hours to dwell on a five game losing streak.
If you're looking for a place to watch the game, head over to Bleacher's Sports Grill in Franklin for the official NHL TweetUp hosted by the Honkey Tonk Angels group. Puck drops at 7:00pm Central.
LEFTOVER THOUGHTS:
* Mad props to the Kings who all took pre-game skate with mullet wigs in honor of Smyth's 1,000th NHL game. He celebrated with a goal, a plus-2 rating and six shots on goal.
* Head Coach Barry Trotz tied the great Toe Blake for games coached with one team.
* The Preds had won five straight games in Los Angeles coming into tonight.
* Los Angeles is 6-0-0 at home this year.
* Nashville hasn't won a game this season when their opponent scores more than three goals.
* Lindback has came in in relief of Rinne twice this season. He has yet to allow a goal in either appearance.
* It is unclear who will start in net for Nashville tomorrow night.
* The Predators are 0-2-0 so far in the month of November and have been outscored 8-4 in those games.
* Shea Weber led all Nashville players with six shots on goal. He also had two that were blocked.
* Steve Sullivan played the point on the power play once again. It didn't work last season, it didn't work on Wednesday and it didn't work tonight. Hopefully this is just a temporary thing while Suter is out of the lineup.
* Since Suter has been hurt, Nashville has been outshot in six of the seven games.
* LA's Willie Mitchell left the game early in the second period and did not return.
THREE STARS:
1) Anze Kopitar
2) Jonathan Bernier
3) Ryan Smyth