Nashville's Barry Trotz passes Hall of Famer Toe Blake…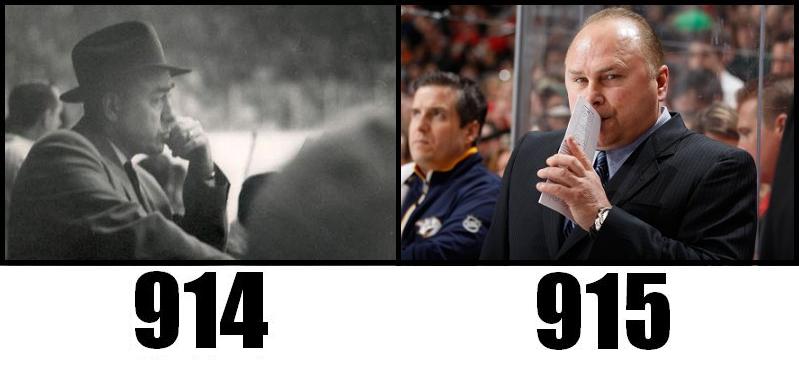 If you told Montreal Canadiens fans back in 1968 that their legendary coach would be passed in the record books by a coach in Nashville, Tennessee, they probably would've locked you up in the loony bin.
As it turns out, 42 years after he coached his final NHL game, Toe Blake was surpassed by the Nashville Predators' Barry Trotz.
When the puck dropped in Anaheim, California on Sunday night between the Predators and the Ducks, Trotz began coaching in his 915th game for Nashville. Trotz is now fifth all-time on the NHL's all-time games coached with a single franchise list.
So while he may not have passed Blake in Stanley Cup's won, playoff appearances or even regular season victories, that many games with one team is impressive in it's own right. Especially considering today's era in sports where head coaches are changed as often as players change underwear.
Another legendary coach — so legendary that he has an award named after him, actually — Jack Adams is the next coach for Trotz to topple. Adams' 964 games behind the Detroit Red Wings bench has him at fourth all-time.
If all goes well, Trotz will pass Adams on Saturday, February 26 in Dallas.
After taking Adams' place on the all-time list, Trotz would be gunning for Lindy Ruff. But Ruff is tacking onto his own numbers up in Buffalo so don't count on Trotz surpassing Ruff any time soon.