DeKeyser decides on the Red Wings…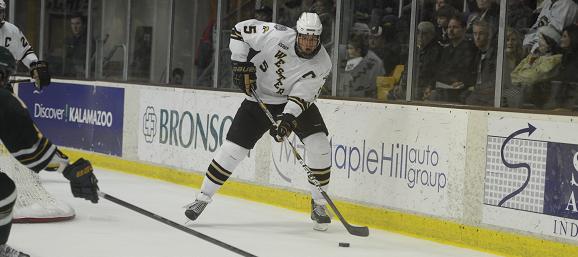 He was considered the best available collegiate free agent and he was being courted by nearly every team in the National Hockey League. Among the reported front runners were the St. Louis Blues, Edmonton Oilers, his hometown Detroit Red Wings, Anaheim Ducks and the Nashville Predators. He also met with the Toronto Maple Leafs and Philadelphia Flyers.
On Friday morning, Western Michigan University defenseman Danny DeKeyser decided to become a member of the Red Wings, per John Shannon of Sportsnet as well as others.
Considering the fact that he was going to get maximum allowed entry level money anyway, DeKeyser's decision came down to other factors. Nashville offered a really good fit for the Macomb, Michigan native. They have a long history of developing solid NHL defensemen (Shea Weber, Ryan Suter, Kimmo Timonen, Roman Josi, Kevin Klein, etc.). They offer a sold out building every night with a city who understands an athlete's privacy when out on the town. They've been to the playoffs seven of the past eight seasons and are always in the mix to make the post season. And finally, they may have an NHL spot for him right away. The company line of "the road to Nashville goes through Milwaukee" may not apply here as the Predators replaced Suter with Josi but who has replaced Josi? Nobody as of yet.
If you're wondering why an undrafted guy is such a hot commodity, you're not alone. However, think about this: when was the last time the Predators made this kind of effort to land a prospect? Head Coach Barry Trotz missed Tuesday's practice so he could join the Preds brass in Mississauga, Ontario to make the pitch for crying out loud. That kind of effort should be applauded as it's completely out of character (at least publicly) for Nashville. And, therefore, it spoke volumes about their interest and the kind of player they believe he is.
Corey Pronman, who writes for the scouting/prospect site Hockey Prospectus, says DeKeyser "has high-end hockey sense, good if not great mobility and a big frame that he's not afraid to use." He goes on to say that he would have been the most sought after collegiate free agent last year too had he not returned to Western Michigan.
Don't let his stats fool you. He tallied just 15 points in 35 games for the Broncos this past season but he's not known as an offensive blueliner. He's more of a defensive defenseman who can contribute when needed. And, quite frankly, that's exactly what the Predators need right now. In the system Nashville has Ryan Ellis, Mattias Ekholm and Victor Bartley. All three would be considered offensive defenseman who play solid in their own end. DeKeyser is the opposite and would have filled the void for that role.
Instead, the Predators miss out on a blue chip prospect and watch him go to rival Detroit.
—
PHOTO CREDIT: Western Michigan University Athletics (used with permission)