Steve Sullivan's 1,000th game is extra special…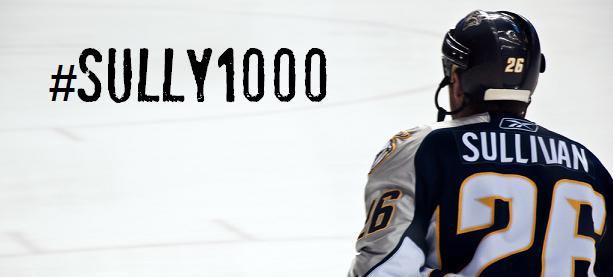 Names of 232 others had been called in the 1994 NHL Entry Draft before Steve Sullivan finally heard his. The New Jersey Devils called his name with two rounds and some change left in the annual event but not because he lacked skill or impressive offensive numbers. After all, he was coming off a 113-point season with the OHL's Sault Ste. Marie Greyhounds.
Sullivan's long wait came because of his size. At 5'8″, 150 pounds, he wasn't exactly built for the rigors of the pro game.
"I think my one asset was being able to skate," Sullivan said.
Oh, but he would bring so much more than that to the NHL. You don't last this long in the best league in the world just because you're a good skater.
Only 284 players have ever played 1,000 games in their career and, tonight, Sullivan will become the 285th.
"I've been looking at that number for a long time," Sullivan admitted. "It's a number that not very many people get to accomplish and I set that as my goal back in 2009 when I came back (from injury). So it's been a number that I've looked at pretty closely."
Sullivan, 38, has amassed 288 goals, 454 assists, 742 points and 289 power play points in his 16-year NHL career. Not a bad resume for a ninth round pick, a round that doesn't even exist anymore.
But that's all hindsight now. The Timmins, Ontario, native's career didn't start with much fanfare. After proving his worth via point-per-game numbers in the Devils' system, the under-sized forward finally earned a recall. He put together some nice seasons in both New Jersey and eventually Toronto but, in 2000, he found himself on waivers.
Enter the Chicago Blackhawks.
Sullivan played more games in Chicago than anywhere else. In 370 contests in the Windy City, he registered 303 points and put up four straight 60-point seasons. He was then dealt to the Nashville Predators for two second round picks and became the first "star" to don a Preds jersey.
All he did to announce his arrival in Nashville was go out and score a hat trick in his first game. He would then go on to propel the Predators into their first post season appearance.
Ever the humble personality, Sullivan attributes his longevity to something other than himself.
"Since the last lockout in 2004 — when we made the rule changes — it made a huge difference for me to be able to stay in the league and to be able to compete at this level for so many years. I think if you kept the rules the way they were before that lockout, with the clutch and grab, it would've been tough to make it this far."
Whether the rule changes had anything to do with his success or not, Sullivan would add two more 60-point seasons before falling victim to a back injury that would sideline him for nearly two years. And that's what makes his reaching 1,000 games so special. There were many in the league who thought he would never play again and, when he suited up on January 10, 2009, thought his return would be short lived.
But he was determined to prove them wrong. While he was on the shelf, he took a teammate's ceremony and turned it into a dream of his own.
"I was about 10 days away from coming back when we celebrated Jason Arnott's 1,000th game in Nashville," Sullivan recalled. "At the party, his wife was introducing him and she said he was the 230-some-odd player to reach that milestone. When she said that number I thought it was very small. At that moment that was a goal that I set for myself."
Well, here we are, 276 games later. Staring at 277 and, of course, number 1,000. His current team, the Phoenix Coyotes, against his old team, the Nashville Predators.
"I'd be lying if I said no," Sullivan said about Bridgestone Arena adding another level to the moment . "I spent seven great years here. I made a lot of friendships, a lot of friends away from the game and it's a great organization that treated me extremely well, even through that rough patch. They stuck with me and believed in me through that stretch. It will be nice to reach that feat on that ice."
When he signed with the Pittsburgh Penguins as a free agent in 2011, it was time for him to move on. There's no denying that. But that doesn't mean he became any less popular here in Music City. Matter of fact, it's great to see him still playing in this league.
"I don't picture myself doing anything else," he said. "I've done this almost half of my life at a professional level. This is what I love to do and I get to do it every single day. It's definitely a blessing."
And we, the 17,113 fans inside Bridgestone Arena, are blessed to have you accomplish this milestone in front of us.
If Sullivan finds a way to score a goal tonight, an assist should automatically be given to the NHL's schedule maker. He would deserve it.
—
SPECIAL THANKS to the Phoenix Coyotes Media Relations department.