Ellis moves up depth chart as Ekholm chooses Sweden over Admirals…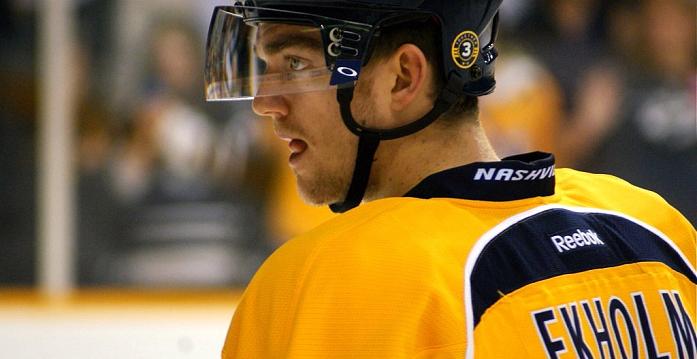 After his head coach called him "Horrible. Absolutely horrible." Nashville Predators defensive prospect Mattias Ekholm was assigned to his Brynas club of the Swedish Elite League, as he would not accept a demotion to the Milwaukee Admirals.
Ekholm needs to learn the North American game (the smaller rink, the north/south style of play, etc.). The only way to do that is to be in North America. The Predators AHL-affiliate, therefore, is the best place for him as it will help his long-term development. Electing for Brynas over Milwaukee basically stalls that development for another full year.
But don't think that this is just a one way street. This choice hurts both parties involved.
Ekholm was named Rookie of the Year last year in what is generally regarded as the second best league in the world, the Swedish Elite League. There, he played against men as opposed to most players (in the same stage of their careers) playing against amateurs in junior or college. As a result, he was considered by some to be the most "NHL ready" of the four prospects (Ryan Ellis, Roman Josi and Teemu Laakso). By going back to Sweden, Ekholm has taken a valuable piece away from the Predators and their 2011-12 campaign.
With Ekholm departing to Europe we can now officially start insidesmashville.com's #EllisWatch as it's just a matter of time before the most decorated defenseman in Canadian Major Junior history gets his shot at the NHL. Ellis and Ekholm provide a similar game: solid defensive play with tremendous offensive upside. While Josi fits that mold as well, he's on the shelf with a concussion. The one difference between the two blue chip prospects is that, at a generous 5'10", Ellis is much smaller than the 6'3″ Ekholm. But, now that Ekholm is untouchable for the rest of the year, the Freelton, Ontario native has nobody between him and the big club.
If there's even a single injury — or suspension — Ellis will make his NHL debut.
The official press release is below.
****
Nashville, Tenn. (October 22, 2011) – Nashville Predators President of Hockey Operations/General Manager David Poile announced tonight that the club has assigned defenseman Mattias Ekholm to Brynas IF of the Elitserien (Swedish Elite League).
Ekholm, 21 (5/24/90), suited up for two of Nashville's first six regular season games – his first action in North America – going pointless while averaging 12:25 of ice time. The 6-4, 204-pound blueliner will be playing his second season with Brynas in 2011-12 after posting 33 points (10g-23a) in 55 games in 2010-11 en route to winning the Swedish Elite League Rookie of the Year award.
The Nashville Predators wind down a six-day/three-game tour of Western Canada this afternoon in Calgary (3 p.m. on FOX Sports Tennessee, 102.5 The Game) before kicking off a three-game home stand on Tuesday when the San Jose Sharks come calling (7 p.m. on FSTN, 102.5 The Game). It is a Daily's Super Tuesday Game, where fans can purchase two upper level tickets for $49 or two lower level tickets for $99. The week continues with games on Thursday against the Tampa Bay Lightning and Saturday against the Anaheim Ducks (both games at 7 p.m. on 102.5 The Game). Limited tickets for next week's games are still available and can be purchased by visiting nashvillepredators.com, ticketmaster.com or by calling 615-770-PUCK (7825).